As Ford prepares to launch the new Fiesta in July, more information on the vehicle has been shared to Indian media. Before we post the full review we'll share some interesting facts on the new Fiesta -
- India gets a convex-edged rear view mirrors while America has a dual mirror arrangement
- Ford has changed the horn for India as they believe drivers in India "communicate more."  The tone and clarity has been upgraded for heavy duty cycle. Europe and America  have less powerful horns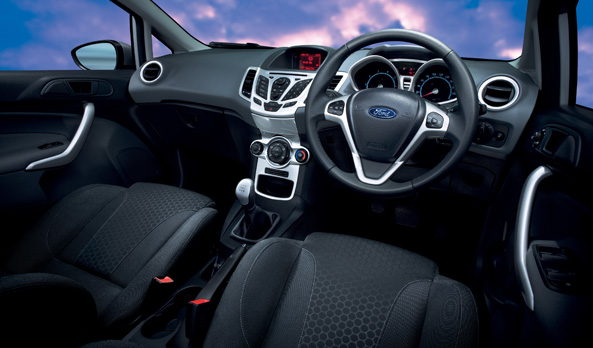 - Ford has planned to upgrade the display on the dashboard in the future. The backlight could be changed to blue from red. The Indian Fiesta has a display screen between the two dials showing fuel consumption in liters/100km and liters/hour which are absurd to the layman. Regionalization of the Fiesta is being looked into. The Fiesta refresh is a long time away, but these changes are expected.
- Rear seat on the Indian Fiesta has added bolstering. There is also an armrest with cupholders (like the Fiesta Classic). Grab handles are also provided above the doors, none of which are not present on the American Fiesta.
- The petrol model is not likely to sport the TiVCT badge on the boot lid. The diesel will have the Duratorq logo along with the blue oval and the Fiesta in a fancy font style.
- The American Fiesta has capless fuel filler and push-button start. These have been overlooked for India.
- America has the 6-speed dual clutch AT which has a higher fuel economy rating than the manual due to the extra gear and the dual clutch. In India, the market for AT in this segment has not picked up. India could get a low-cost AT next year. We believe Ford will watch the Verna' progress closely to decide when.
- Ford did not think about beige interiors as it believes in providing the Indian customer a car similar in most aspects compared to the global model. Maintaining a black interior is easier than beige.
- Ford has no immediate plans for the Fiesta hatch but will not rule out the possibility of a launch in the distant future.