Its been a busy week for the Ford Fiesta as there's news coming in on the 37-year old nameplate from two corners of the world. The Fiesta is one of the world's most popular B-Segment names, and one sold every two minutes in 2012.
The facelift of the Fiesta was launched at the Paris Motor Show last year and since then, its being deployed in markets around the world in a phased manner. This week, Brazil and China received the Aston-Martin-inspired facelift.
Fiesta facelift prices announced in China -
The Fiesta gets an updated 1.5L petrol powertrain (which made its world premiere in India about two years ago) producing 110 horsepower and a peak torque of 140 Nm, an increase of 7 hp and 2 Nm compared to the outgoing model. On the transmission front, the car gets a 6-speed dual-clutch gearbox in addition to a 5-speed manual gearbox.
In all there are 11 variants of both sedan and hatchback, with prices ranging from 7.99 to 11.69 million yuan (6.98 lakh to 10.22 lakh rupees).
First Fiesta rolls off the Brazilian production line -
Ford hosted a party celebrating the roll-out of the first locally produced Fiesta in Brazil. The car is produced at the São Bernardo do Campo factory. Ford is hiding away details on the prices until next month when the commercial launch is scheduled to take place. Prices are expected to hover around 12.5 lakh rupees putting it in the same classroom as the Chevrolet Sonic, Fiat Punto and Peugeot 208, one level above cars such as the Etios hatchback, HB20 and the Onix. We'll get more details as we draw closer to the market launch.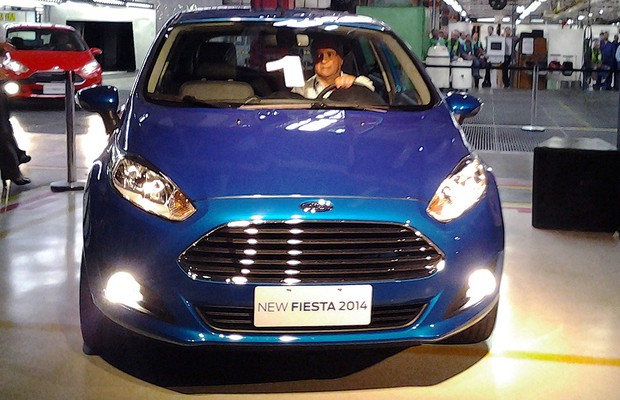 To the Brazilian car buyer, Ford is offering the Fiesta with either a 1.5-liter or a 1.6-liter engine, linked to a 5-speed manual or a 6-speed automatic transmission. Ford Brazil has confirmed exports to the Argentinian market.
Ford India may not attend to the Fiesta this year as they have to get the hugely-anticipated EcoSport off the ground.
[Source - revistaautoesporte.globo.com & Autohome.com.cn]