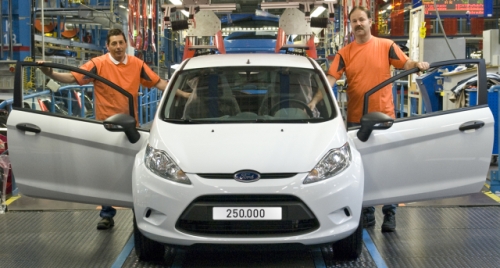 To give you an idea of how fast that is, Tata Motors took 10 years to sell a million Indicas. Ford's taken 9 months to sell quarter of a million Fiestas, and a remarkable feat that.
The new Ford Fiesta has been selling in China since recently with a boot. This car is expected in India by next year and it might replace the existing Fiesta or run alongside it. Ford doesn't plan introducing the it in its hatchback form yet, but might change its mind in the future.
Despite recession peaking in Europe, the Ford managed to sell 52,800 Fiestas in March earning it the reputation of the best selling car. It's impressed many, the What Diesel Car of the Year award panel of judges awarded it the crown earlier in the month.
Here's a fast fact- Since the very first Fiesta was launched in 1976, over 12 million have been sold worldwide.
click through for press release
Press Release
PRODUCTION MILESTONE FOR EUROPE'S BEST-SELLING CAR
COLOGNE, April, 23, 2009– Ford's hot new Ford Fiesta has become the fastest-selling model ever to wear that famous name badge, with the 250,000th example
coming off the Cologne, Germany, assembly line just nine months after the car went on sale.
No previous Fiesta model has reached this milestone in such a short period of time.
In March alone European sales soared to 52,800, earning the Fiesta the title of Europe's best-selling car, according to UK automotive business consultancy, JATO
Dynamics.
This was the best monthly sales performance of any Fiesta model since August 1996.
The Fiesta has also established itself as the best-selling model in the UK for the fifth consecutive month. In Germany, Fiesta had its best March since 1998.
"The new Fiesta has been a tremendous hit with consumers since it went on sale all over Europe," said Ingvar Sviggum, vice-president of marketing, sales and service,
Ford of Europe. "Customers are attracted to Fiesta by its design, the driving experience and affordability of the car."
In Europe the new Fiesta is produced in Cologne and since January this year at Valencia in Spain.
In keeping with its global credentials, Fiesta is also built in Nanjing, China and from 2010 will be produced in Rayong, Thailand and Cuautitla?n, Mexico.
Sales in North America will start in 2010.
Since the very first Fiesta was launched in 1976, over 12 million have been sold worldwide.