Our Twitter follower Pradosh alerted us this morning on a Savannah Orange Ford EcoSport plying on the Western Expressway of Mumbai. We've put out a gamut of spyshots of the Orange EcoSport in the past few months, so the variant or the color isn't the highlight of this post.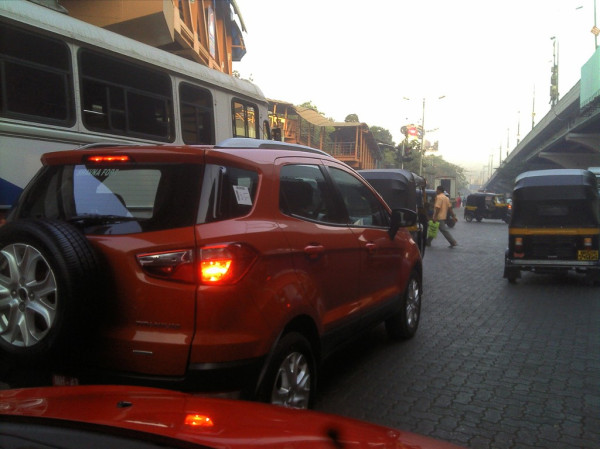 There are two telltale signs on this car that sort of confirm that the launch is an arm's length away - the MH registration plates and BHAVNA Ford label atop the windshield glass.
Thus far we've only seen TN registered EcoSports with VOCF stickers (Voice Of Customer Fleet) or LHD test mules with a 2-liter engine beneath the bonnet, testing for many different reasons.
Hence this is the first concrete sign of a demo car reaching the premises of an authorized dealer. This is the first EcoSport that isn't a test mule - that's good news for those waiting for the launch.
Prodosh's EcoSport is the top-end model strapped with the Ecoboost engine. As per a recent online media report, Ford will produce the EcoSport with the Ecoboost engine initially, and conduct the launch in late March. The diesel engined and the 1.5L Ti-VCT variants will not come immediately into the launch.
Ford has confirmed the launch of the EcoSport in Nepal, Middle East, South Africa and Indonesia for 2013. We believe these are the first export markets serviced by Ford's Chennai factory through the Ennore port. As these countries are petrol-driven, exports can begin within a short while of the local launch. Ford has announced that the EcoSport will sell in over 100 markets eventually. The EcoSport built in Indian and Thai factories should serve most of these markets.
We're still speculating on the strategy that will be used to put these cars on the road. We hope Ford India will straighten this out once and for all with a press release or a press conference.
[Source - Pradosh's Twitter account]