Ford is reaching out to eager fans of the new EcoSport through official websites showcasing the same concept car that was unveiled in January this year. That, combined with the several spy shots that came in from China, confirms that the production version will be very close to the concept.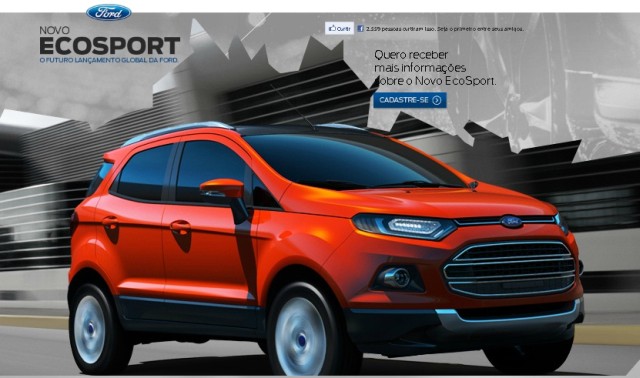 Although the company's not ready to talk about the interiors, there are some reports doing the rounds that the B-Max's expressive and sophisticated dashboard could be used for the EcoSport as well. If not, we can expect Ford to use Fiesta's interiors as its readily available.
Ford India has its official website showing the concept car and videos on some of the technological aspects under the hood. It also gives a dimensional comparison on where the EcoSport stands compared to the Endeavour and the Fiesta.
Is the EcoSport an entirely new nameplate?
The older edition of the Ford EcoSport has been on the Brazilian market since 2003. It is based on the Figo platform unlike the new one, which is based on the new Fiesta. The EcoSport's been one of the best sellers by Ford in Brazil consistently appearing in the top 10 cars every year since its launch.
Where else will it be manufactured?
The new EcoSport begins production later this year at the Camcari plant in Brazil substituting the Figo-based model. In India, the "urban utility vehicle" will be produced in Chennai, with the modern EcoBoost 1.0 three-cylinder turbocharged petrol engine, which outputs 120 PS and 170 Nm. The petrol engine is strapped with Ti-VCT (Twin Independent Variable Camshaft Timing), turbocharging and direct injection.
Check them out through links to EcoSport India website and Brazilian website.