Ford India has sent email notifications to its customers and fans who previously registered with them stating that the EcoSport would be on view at a shopping mall in Mumbai.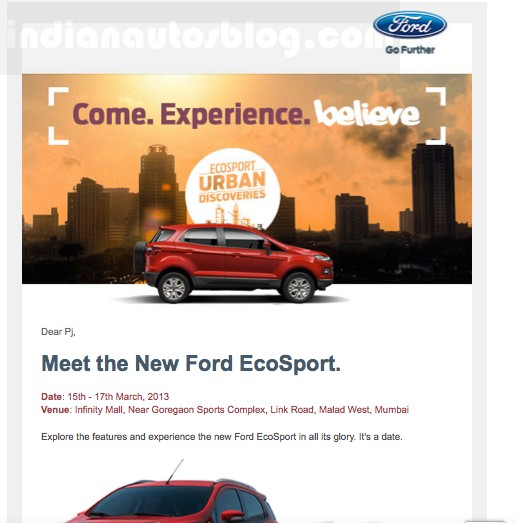 Ford conducted shopping mall activations across main Indian metros when they introduced the Fiesta two years ago, subscribing to the idea that they are taking cars to where their target buyer would spend his free time at instead of expecting him to drop by at one of the dealerships.
The temporary boutique like arrangement would have not just the car, but screens and cafes where one could read, experience and discover more on the product. To get footfalls, Ford took its product to where there were plenty of feet!
Ford said the Fiesta's target buyer 'Ajai', a young tech-savvy individual would spend time with friends and family on a weekend at the Select City Walk in New Delhi. Their studies showed that Ajai would frequent entertainment centers and shopping complexes in his free time.
Coming back to the Ford EcoSport, regular reader Prateek Joshi (Pj) sent us this email he received from Ford India alerting him of a Ford EcoSport to be displayed at the Infinity Mall in Mumbai between March 15-17 (Friday-Sunday). Last year Ford took the EcoSport concept car to malls in some cities shortly after its debut at the Delhi Auto Expo to show it those who missed the event.
Ford hasn't given us a heads up on the launch of the vehicle but we sense that it is around the corner now. Ford may do similar mall activations in other metros this month.