Do you know what day is today? Today is the day when Ford previews the EcoSport for select journalists at Barra Lighthouse in Salvador. Sure, you will say that we have seen the production model before doing its crash testing. But you haven't seen the interiors; well at least till now!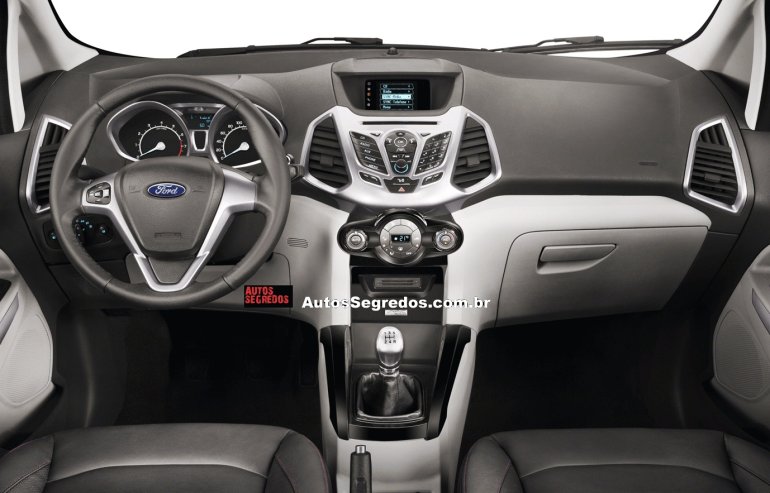 Thanks to our friends at Autossegredos.com.br, IndianAutosBlog brings you the first exclusive pictures of the Ford EcoSport interiors. The mystery has been finally put to rest.
As one can see the EcoSport Interiors are very similar to the Ford Fiesta's interior. That's a good thing because we loved the energetic design of the Fiesta's interiors. The EcoSport interiors is a sumptuous combination of dark black, light grey and aerosol silver. As one can see this is a left-hand-drive model. This is surprising because Brazil is a Right-hand-drive market. May be it's a export model.
A few things that catch our eye are chrome gear knob, steering mounted control, a small screen in the center console and leather seats. The butterfly shaped center console is lifted form the Fiesta but the side aircon vents are designed differently. Ford claims that the EcoSport has room for five passengers and their luggage.
Autossegredos.com.br reports that the top variant of the EcoSport gets Ford SYNC connectivity system with voice command, intelligent entry and keyless start, rain sensors and automatic illumination of headlights. The website also reports that the steering is EPS and not a hydraulic one.
On safety side, the top variant gets front airbags and side curtain airbags as options. The equipment list also includes antilock brakes, electronic stability control, assistance in starting ramp and parking sensors.
Stay tuned as we get you all the details of the Ford EcoSport from Brazil.
[Source: autossegredos.com.br]