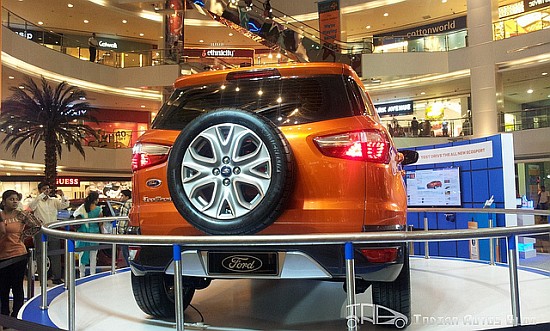 Ford India made a global debut of Ecosport concept at the 2012 New Delhi Auto Expo. Lakhs of visitors were wowed by the vehicle sporting LED headlamps (the only reason for it to be called a concept) in New Delhi. The Ford EcoSport is designed to combine best-in-class design, technology, quality and safety aimed at attracting a new generation of consumers in different global markets.
However, Ford India now wants to present the Ecosport to a larger audience so that they can get up close and personal with the car. The doors remain locked as Ford is not yet ready with the interiors.
Hence, the EcoSport is headed to Mumbai to woo the Mumbaikars. The Ecosport concept is on display at Infinity mall in Malad till January 25 and will then move on to Inorbit mall, Vashi from January 27th onwards. Here are some images of the EcoSport Concept from Infinity Mall in Mumbai.
The key USP of the Ecosport is the 1L, three cylinder Ecoboost engine which despite its small capacity and proportions, delivers power and performance that will rival a traditional 1.6-litre petrol engine. This engine can fit on an A4 paper but can produce 120hp!
The Ecosport will be a key model in expanding Ford's presence in growth markets including India, Brazil and China.
Ford EcoSport Image Slideshow
[Can't see the slideshow above? Head straight to the EcoSport Flickr Image page]