Throughout last year, Ford carried out trials of the EcoSport around Brazil, China, India and the United States. You can now add Thailand to this list as the global testing and launch programs of the EcoSport isn't dying down yet.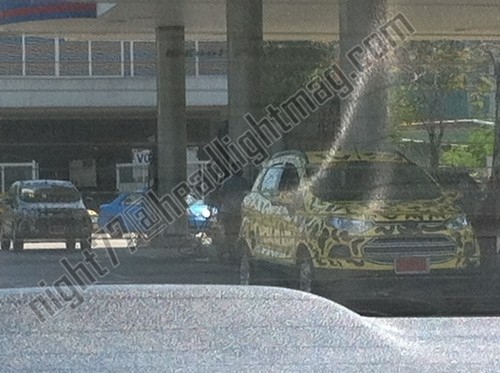 Headlight Magazine's forum user Night77 has posted an image of the scantily camouflaged 'Bright Yellow' Ford EcoSport test mule filling up at the bunk.
Unlike the mule that was spotted in Michigan, the Thai mules are on a more serious mission. Ford has announced production of the EcoSport in Thailand which will be the fourth manufacturing location for the mini SUV after Brazil, China and India.
The exterior of the EcoSport was launched at the Delhi Auto Expo last year, while the wraps on the interior were lifted in April simultaneously in Beijing and Brazil. The EcoSport is a sought after car brand in Brazil where 700,000 units of the first generation, Figo-based model were sold.
The second generation EcoSport has also been announced for the European market. Ford India has additionally confirmed export plans without elaborating on the destinations. The Figo's 35 export markets could be on the EcoSport's plan as well.
The EcoSport will compete with the Peugeot 2008, Renault Duster, Honda Jazz-based SUV, and Volkswagen's compact SUV based on the Up! platform in the international marketplace in the future.
Hat tip to Toddy Chen from Bangkok!
[Source - Headlightmag.com]