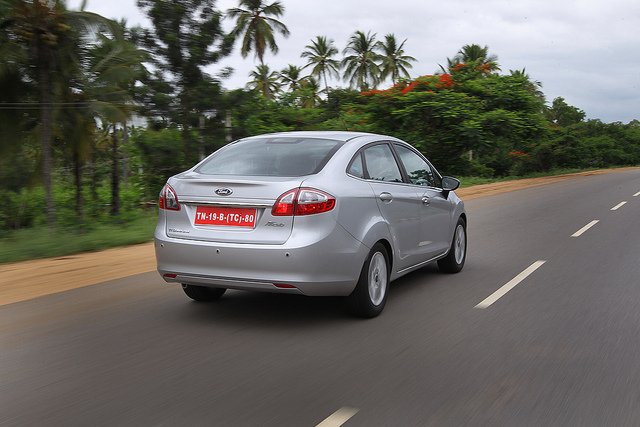 Ford India in a press release issued today evening noted that production of the new Fiesta has started at the Maraimalai Nagar complex near Chennai. Chennai is the sixth facility in the world to produce the new car after China, Germany, Spain, Mexico and Thailand.
The new Fiesta will come with a pair of 1.5-liter engines with class-leading fuel efficiency figures. It is expected to touch down at dealers during the course of July with manual transmissions. Ford India will not produce the hatchback at the moment and there is a strong possibility of it arriving in the next few years.
Features like voice activated climate and audio control, cruise control, ABS, EBD, height adjustable seat, electrically operated mirrors, fuel consumption indicator and remote key will be available on the top-end variant. Two petrol and two diesel variants are expected in the first phase followed by an automatic transmission variant next year.
Ford Starts Production of All-New Ford Fiesta
Ford has commenced production of the All-New Fiesta at its Maraimalai Nagar plant, near Chennai
The premium four-door sedan, which features several first-in-class technologies for India, an eye-catching design and class-leading fuel efficiency, will be available in showrooms later this year
Boosted by a USD 72 million investment, Ford India is the sixth manufacturing facility worldwide to start production of the highly acclaimed global Fiesta
NEW DELHI, India, 16 June, 2011 – Production of Ford's popular four-door Fiesta sedan kicked off last week at Ford India's state-of-the-art passenger car manufacturing facility in Maraimalai Nagar, near Chennai.
The 172,175 square metre Maraimalai Nagar plant is the sixth Ford facility in the world to produce Fiesta. The other facilities are located in Nanjing, China; Cologne, Germany; Valencia, Spain; Cuautitlán, Mexico; and Rayong, Thailand.
"We are thrilled to see Ford's latest world-class premium sedan rolling off the Chennai assembly line, continuing India's emergence as a regional manufacturing hub for Ford," said Michael Boneham, president and managing director, Ford India. "We are committed to growing our operations in Tamil Nadu and bringing new products to India in the coming years."
The company recently made an additional USD 72 million investment to expand its powertrain facility at the Maraimalai Nagar plant to further support its sales and export growth plans in India. When the expansion programme is completed in mid-2012, powertrain production capacity will increase from 250,000 to 330,000 units per year.
The Maraimalai Nagar engine plant will produce the advanced 1.5L Ti-VCT petrol and Duratorq TDCi diesel engines for the All-New Fiesta. Known to be extremely agile and fuel-efficient, these engines helped Fiesta achieve class-leading fuel economy figures of 17 km/L and 23.5 km/L, for the petrol and diesel engines, respectively.
The state-of-the-art Maraimalai Nagar passenger car plant utilises the latest auto manufacturing technologies, automated systems and processes. It also features a fully integrated stamping line, body shop, trim and final process area. Its paint shop has a first-in-India, Three-Step-Wet-Solids paint process that reduces volatile organic compounds by 20 percent.
The debut of the newest Ford sedan in India follows a series of global introductions that started in Europe and progressively moved around the world. Since its introduction, over one million Fiestas have been sold globally.
Designed to be versatile, personal and adaptable, Fiesta offers customers best-in-class safety features with a low cost of ownership. Fiesta features several first-in-class technologies for the Indian market, such as cruise control, connectivity that includes voice control communications with Bluetooth, and automatic climate control.
"Fiesta, with its class-leading technology, fuel-efficiency and great design, will set a new benchmark in its class," Boneham added. "We hope it will provide the excitement and individuality that Indian customers are looking for in a premium sedan."
The All-New Fiesta, which will be available in showrooms later this year, is the first of eight new vehicles that Ford is planning to introduce into India by the middle of this decade.