Ford India have today (a day after the budget was announced) started a marketing initiative for the much awaited EcoSport.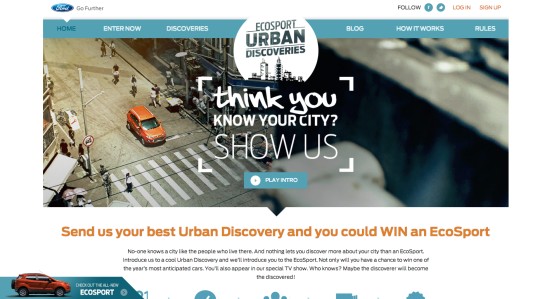 This definitely hints that the launch is just around the corner and definitely brings some form of respite for the huge fan following the EcoSport has garnered since it debuted in India as a concept car last year.
Here is exactly what Ford says:
"Ford Empowers the People of India to Set the Stage for EcoSport launch with EcoSport Urban Discoveries Campaign"
More about the initiative itself:
The EcoSport Urban Discoveries is something like showing off something exclusive to your city - From what we see it can be something like a landmark, quirky eateries, monuments, etc.  Ford claims that it is the 'single largest product pre-launch campaign in India'

Over 100 consumers get to drive and experience the EcoSport ahead of its official market launch.
Dedicated website set up for the initiative. Head over to www.ecosportdiscoveries.co.in to check it out

.
How it is going to take place:
The EcoSport Urban Discoveries will be executed in two phases divided by consumer activation roadshows across 12 key cities - New Delhi (including NCR), Mumbai (including Navi Mumbai), Bengaluru, Chandigarh, Kochi, Ludhiana, Chennai, Jaipur, Hyderabad, Ahmedabad, Pune and Kolkata to cover North, South, East and West regions. These roadshows will feature modular interactive zones that will be set up in high-footfall malls in each city to offer potential customers a touch and feel experience of the product and its features.
How it is going to be judged:
Participants need to hold Indian citizenship and reside in any of the aforementioned 12 cities. They will 'discover' a place or places which are unique, uncommon and interesting in their respective cities, upload them on www.ecosportdiscoveries.co.in with descriptions and finally share them with their families, friends and social communities. This 'urban discoveries' will then be evaluated by a neutral jury basis following or votes, quality of content uploaded. This will govern the selection of 35 best entrants for the second phase of the campaign. A finite duration will contain the posting of 'urban discoveries' on the online platform.
The second phase will allow each of the 35 selected participants to add two more members to form their team of three. Each of these teams will get the key to their Ford EcoSport that will help them in their quest for urban discoveries, in their respective cities. These real experiences in the EcoSport will be captured in videos and will run on the online platform.
The teams will continue gathering followers in order to remain in the consideration of finally winning the grand prize. The leader of the team who gathers maximum followers, stimulates and engages them in best possible way to amplify their urban discoveries, wins and drives home an EcoSport and his or her team members will win international holiday packages. Ten lucky followers of the winning team will win iPads.
The reward ceremony will be hosted and aired on a special episode on a General Entertainment Channel.
Vinay Piparsania, executive director of Marketing, Sales and Service for Ford India said- "We at Ford believe that real people and their real experiences truly bring the best out in our products. This has inspired us to empower the people of India to set the stage for EcoSport's launch in the country. EcoSport Urban Discoveries will give over a hundred customers, the opportunity to drive and experience our exciting Ford EcoSport ahead of its market launch. This campaign will help us go further in engaging with our customers and educating them about our upcoming big product."
You can check out a brief video here:
[can't see the video above? Head over to Youtube]
Are you excited yet?