It's nothing short of an engineering marvel, the Ford 1-liter Ecoboost engine, as it conditions itself to arm vehicles bigger than the EcoSport.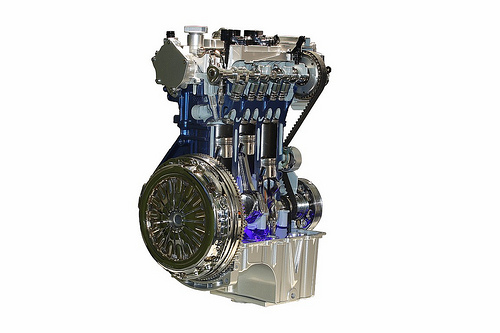 In the European markets, Ford is likely to use the "Fox" engine in the performance variant of the Focus and Fiesta. The company is already working on installing an electric supercharger to the three-cylinder engine to bump up power output to an unbelievable 177bhp!
Presently the 1-liter engine develops two levels of power - 99bhp and 123bhp. The EcoSport for the Indian market is likely to have 123bhp though the 99bhp output would significantly improve fuel economy. Ford will begin using the Ecoboost engines on the Fiesta all over the world. The usage could spread to bigger models such as the C-Max.
Step by step, the 1.0-liter engine will succeed all non-turbo 1.6-litre petrol engines in all Ford global cars. Though Ford understand the hesitancy of customers to downsize from 1.6 to 1.0-liters, it will only prevail until he or she takes a test drive, the company believes!
[Source - CarScoop.Blogspot.com]