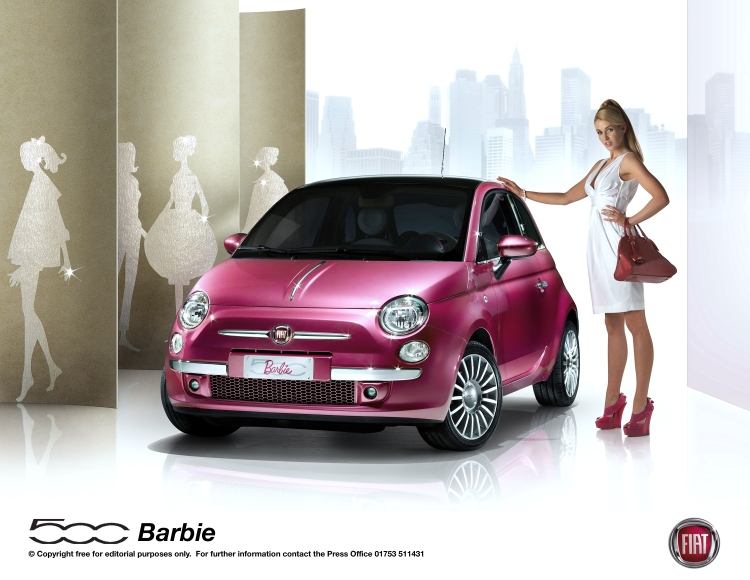 As announced earlier, Barbie's 50th birthday present, a pink Fiat 500 painted in Barbie pink was displayed at the Geneva Motor Show. This was ofcourse gifted by Fiat, who designed the gift working closely with her maker Mattel.
Barbie got her hands on the pink 500 today, which was driven by Ken who took her on a parade around Milan.
Read to find out more on this madness in the PR attached below.
Source- Fiat
Press Release
BARBIE CELEBRATES HER 50TH BIRTHDAY WITH A NEW 500

Barbie, the most famous fashion doll in the world, celebrated her 50th birthday on Monday (9 March) with a unique pink Fiat 500.

The special, one-off show car was designed and built in a partnership between Fiat's Style Centre (Centro Stile) and toy maker Mattel, to mark five decades of the internationally-known icon.

The bright pink Fiat 500 transported a real-life 'Barbie' model through the streets of fashionable Milan, driven by an equally life-like 'Ken'. She arrived at Milan's La Rinascente department store, while German pop band Nena played live songs from the last 50 years.

The special city car's gleaming paintwork resembles nail varnish, while its seating is upholstered in soft, silver laminated Alcantara fabrics. The floor mats have been enhanced with natural silk yarn and there are lip glosses in brilliant colours stored in the glove compartment, along with an LED-lit vanity mirror.

Bright crystals sparkle on interior bezels, hubcaps, window mouldings and the roof-mounted aerial, and there is even an outline of Barbie's famed silhouette on the B-pillars.

"Barbie is a looker, smart enough to listen to everyone, a universal ambassador opting for a car that never divides, but frees everyone from having to declare their social status," said Roberto Giolito, Fiat Style Director and creator of the Fiat 500.