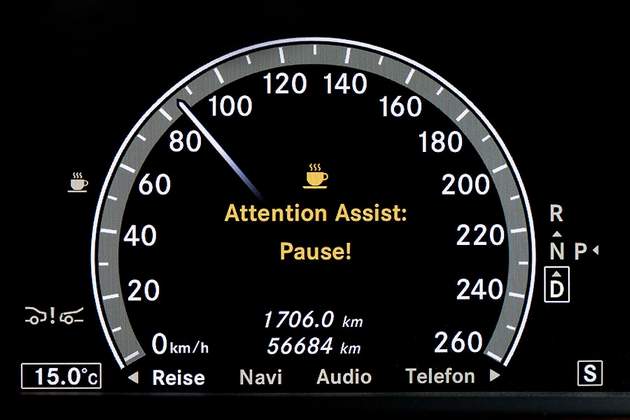 Mercedes Benz has revealed that it will institute the Attention Assist system on it's E-Class sedans as a standard feature starting 2009. The Attention Assist system warns the driver if it detects that he's feeling drowsy.
Fatigue is accountable for giving rise to more than 100,000 crashes and 1,500 deaths yearly on roads in the US of A, and the king of gadgetry, Mercedes-Benz has been working on world's first drowsy-driver detection system for 10 years now. This system will officially debut at the North American International Auto Show in Detroit next month.
The system works by continuously supervising the driver's action and behavior, and when it senses he's feeling drowsy, it sounds a warning chime and displays a hot coffee icon below the speedo needle.
This system will also get excited if it detects the driver is talking over the phone or is under the influence of alcohol while driving.
A total of 600 drivers participated in the testing of this system, all of them were equipped with brain-wave-monitoring skullcaps to understand when exactly an individual slides from awareness to weariness. The conclusion was a set of identifiers were more effective than camera-based systems. One of the chief identifiers was the steering input while the rest were sensors integrated with the accelerator and brake.

"Studies show that after just four hours of driving, the risk of an accident doubles," Mercedes-Benz Attention Assist expert Jorg Breuer said. "It increases eightfold after six hours, and drivers often fail to recognize drowsiness early enough."
Source : Auto Week