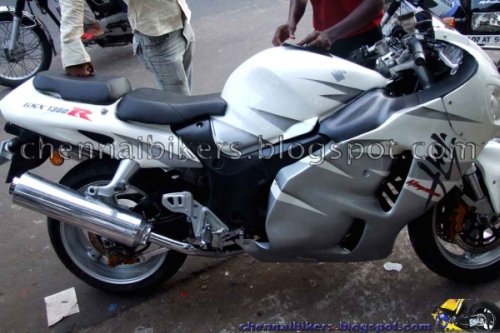 Cannot understand who would have such a complex fantasy
Here are a few images of a Bajaj Pulsar being modified into a Suzuki Hayabusa and a Honda super bike.
Although it seems to be a nice work of modification (just by the looks of the bikes) but one can't imagine from where they can source the real power and the true sound of that of the original sports bike.
No matter how much they try, the engine of a Pulsar and an exhaust can will never provide the real grunt that define a performance motorcycle. I always feel that its just a fake way of satisfying ourselves of owning a sports bike and to make it look all cool to someone who is new to such bikes.
These mods do not cost less and you might have to shell out around 30-50k or even more depending upon the type of modification, quality of materials and the workmanship you are going for.
For me its like modifying a Maruti 800 into a Rolls Royce!
Such kind of modifications have been carried out in the past and the quality of the plastic/fiber glass used by some of the local mechanics and modders is not even close to the real thing and within a few months you will feel that you are just riding plastic bucket emitting an irritating noise from its back.
By modifying the bike to such an extent you end up playing with the electricals, the seating position and lots of other things which surely hampers the performance of the original bike. One should always remember that the stock bike has been designed after a lot of R&D work and you can never better that by fitting it with such plastics items and cans.
A few modifications to the bike like adding graphics to it or changing the headlamps with powerful one and some tidbits here and there is  acceptable, but changing the entire bike to a different one is really a complex fantasy to understand.
Bajaj Pulsar to Suzuki Hayabusa Image Gallery
Source - Chennai Bikers