The DC Avanti, a made in India sportscar, is ready for its expected launch next year. The first set of bookings (500 units) are reported to be over and the second batch has begun, too. Now to make sure that customers can customise their Avantis, DC also offers a list of accessories that the Avanti can be specced with.
Published by Team-BHP, the list includes accessories ranging from Rs 18,000 and going up to Rs 3 lakhs. Prominent ones include Bi-xenon headlamps, dual DIN audio system with navigation, carbon fibre parts (engine hood louvers, door pads, etc.), and a custom matte paint. There's also a programmable MID (multi information display), a set of different-styled alloys, sports exhaust, Alcantara leather headlining, seats and door pads, and to keep up with the Paganis of this world - personalised soft luggage.
The Avanti's technical specifications became public last month. The body is largely made of carbon composite while it sits on a spaceframe chassis with an added rollcage. Weighing at 1,580 kg, the sports car is powered by a 250 hp and 366 Nm producing 2-litre turbocharged petrol engine. Also worth noting is the car's huge (for a sports car) ground clearance of 170 mm which should mean it doesn't scrape its underside as other cars do here.
What's surprising is that the tech-specs documents have no mention of airbags whatsoever.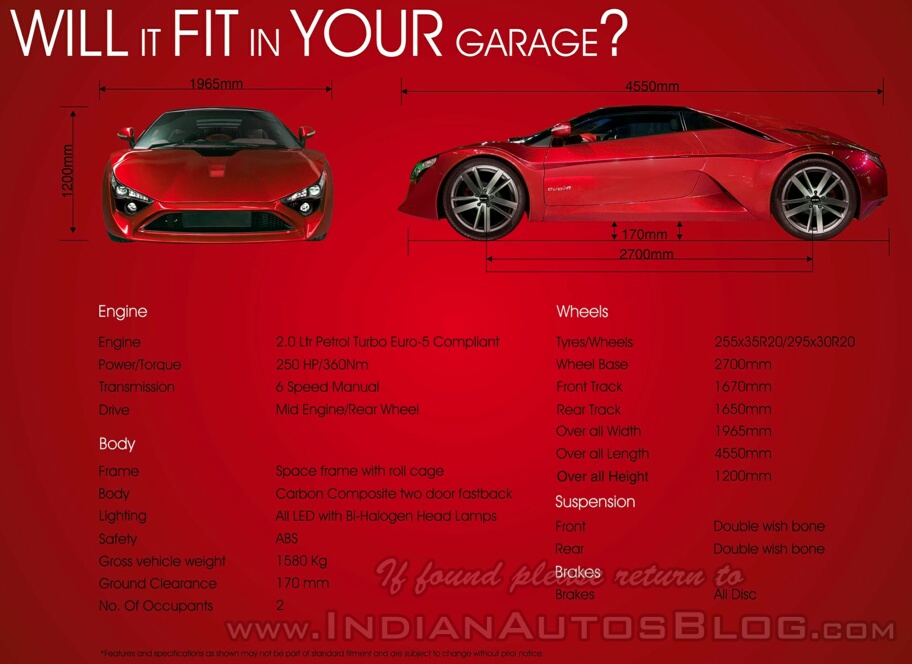 Also Read: DC Avanti's interior revealed
Deliveries are expected to begin in 2015, while if you're interested in booking one, DC is accepting bookings against an advance payment of INR 5 lakhs. As for the pricing, our sources had earlier indicated an ex-factory tag of INR 38-40 lakhs.