It's compact crossover SUVs galore at the Paris show, in both concept and production forms. The Chevrolet Trax follows Ssangyong Concept e-XIV, Ford EcoSport and the Audi Crosslane Concept.
Our regular readers will know that this mini SUV from General motors is a global model which will be sold under different badges and guises such as the Opel Mokka and the Buick Encore.
Underpinning the Trax SUV is the GM Gamma II platform which underpins the Beat and Sonic. Chevrolet sees cars like Skoda Yeti and Nissan Qashqai as direct competitors. We know what are the cars that the Chevy Trax will face in India. Yes, the Renault Duster and the Ford EcoSport.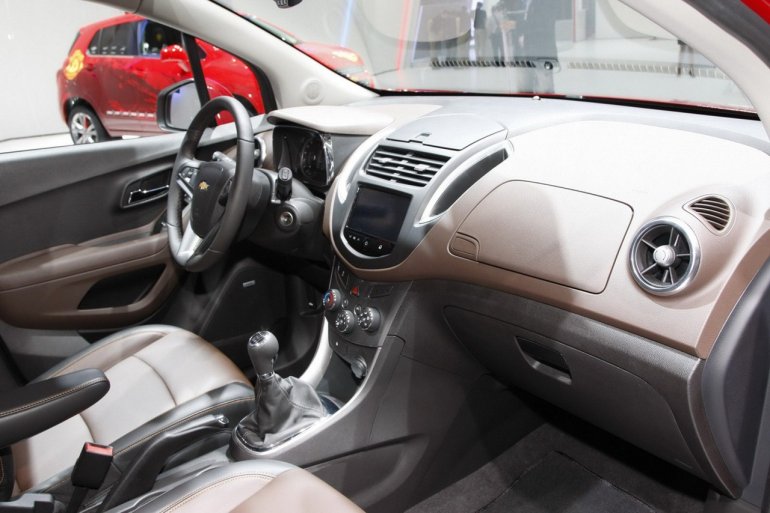 A choice of three engines is available on this compact crossover. A 1.4 litre turbocharged petrol, 1.6 litre petrol and a 1.7 litre turbo diesel. The power goes to the front wheels primarily but an optional all wheel drive variant is also expected with the 1.4 litre petrol and 1.7 litre diesel engines.
Since the Trax measures at 4.2 m in length, if launched in India,  one can expect price tag to be little on the premium side, but it will rely on the equipment and a powerful engine to play the value game.
The Chevrolet Trax will be launched in Europe next year and GM India is considering the possibilities of bringing it here, though at present, we can't accurately predict when.
We presume that the Trax is a good product for India since almost every B-Segment car buyer is looking for a compact SUV nowadays, however do remember that it's SAIC which calls the shot at GM India!
GM is using the name 'Tracker' in Russia that could apply to India, as the Trax is a Force Motors product.
[Source: CarScoop.BlogSpot.com]