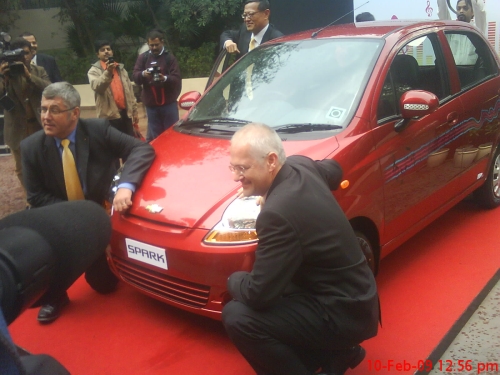 Chevrolet Spark and the Aveo U-VA have won J D Power Asia Pacific quality award for the second time in a row. Despite stiff competition, the Chevrolet Spark and the Aveo U-VA were ranked the highest in their respective segments in the latest edition of the JD Power study, which is the industry benchmark for new vehicle quality.
The awards were given away to the Chevrolets a glittering ceremony held at the Taj Mahal Hotel in New Delhi, on 10th April 2009.
The Chevrolet Spark, a hatchback smaller both in terms of price and size than the U-VA is one of the hottest cars you can find on the market today. An even cheaper version of the Spark with a 800cc motor is expected to be priced against the Alto later this year.
Notably, the Chevrolet Tavera favourite among taxi cab operators, has also been ranked second in the MUV / MPV Segment.
Mr.P. Balendran, Vice President, GM India said-
These prestigious wins from J D Power, coming the second year in a row, clearly serve to reiterate that Chevrolet has become the preferred automobile brand in terms of quality and customer delight. These multiple, repeat wins are the result of GM India's single-minded focus on our valuable Chevrolet consumers and our deep commitment to offer best-in-class products that meet and exceed customer expectations. We will continue to leverage the momentum gained this far and build on the inherent strengths of our products in the future also
IAB Comment- Is GM the next Maruti in India? The Spark has been around for a long time now, played its first inning as the Matiz. GM is able to put that to good effect by controlling the price tag. The Spark will have alternate fuel versions and with the introduction of a smaller engine this year, this is the Indica in the GM range.
Source- Financial Express