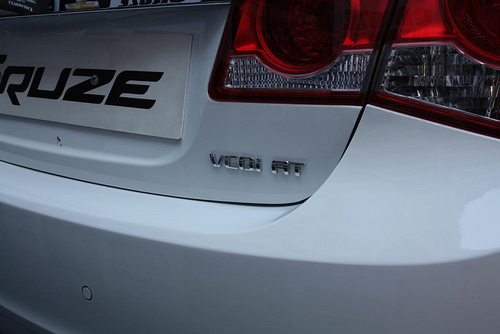 The Cruze AT is a very powerful diesel automatic car with handful of useful features
Three days ago, General Motors launched the Automatic transmission variant of the diesel Cruze in Bangalore. Priced at 13.45 lakh rupees (ex-showroom Delhi) the Cruze diesel becomes easier to operate.
Features on the automatic transmission variant include PEPS, Push Button Start, Cruise Control, Smart Screen and Electric Sunroof. The Automatic variant comes in a special 3 coat paint called White Diamond in addition to the six colors already on offer.
Chevrolet Cruze Automatic Image Slideshow
If you cannot see the slideshow above, visit the Chevrolet Cruze Automatic Image Gallery for Images
Press Release
GM India Introduces Chevrolet Cruze Automatic

Diesel performance, refinement of 6 Speed Auto transmission redefines D- segment

New Delhi – General Motors India today launched the Chevrolet Cruze AT in Bangalore at a ceremony presided over by its President & Managing Director Mr. Karl Slym. The manual version of Chevrolet Cruze launched in October has already redefined the D-segment with its coupe-like design proportions, comfortable interiors, class leading features and other exclusive product attributes.

The 6 Speed Automatic Transmission will be offered on the LTZ variant which also comes with a host of features like PEPS, Push Button Start, Cruise Control, Smart Screen and Electric Sunroof to name a few. The Automatic variant will also be available in a special 3 coat paint called White Diamond in addition to the exciting six colors already on offer.

The Chevrolet Cruze AT also has a triptronic mode which enables a sportier drive for the customer. Other highlights of this six-speed automatic transmission include Clutch-to-clutch shift operation for added precision and smoother shifts between gears. Also, it has a wide spread ratio with the first gear designed for a very high ratio to provide brisk acceleration from the top while the sixth gear has an overdrive ratio to keep the engine revolutions as low as possible for highway cruising and improved fuel economy. One of the key benefits of this model is that it uses premium fluids in the transmission that does not need replacement during normal use.

"Chevrolet has already become a driving force in India's vehicle market," said Karl Slym, President and Managing Director of GM India. "The Cruze has been receiving excellent market response since its launch in the last quarter of 2009. The auto Journalists in India who had test driven the vehicle have rated it as the best in its segment for its unique product attributes.

It builds on the reputation of the brand for attractive design, great performance and outstanding fuel economy in the D-segment. The Chevrolet Cruze is also one of the key drivers of the global expansion of Chevrolet. It is backed by the highest scores in major crash safety ratings. The Chevrolet Cruze has also recently received the maximum five-star rating in European New Car Assessment Program (ENCAP) rating, after winning 5 star ratings in Australian and China NCAP. The latest feather in Chevrolet Cruze's cap is its selection as a finalist in the reputed 'World Car of the Year' Award.

Speaking on the occasion, Mr.P.Balendran, Vice President, General Motors India said 'the Cruze is all about value, refinement and power-packed diesel performance combined with an array of unique features. And with the Automatic transmission option the Cruze offers everything any discerning Indian car buyer could want in a Sedan at a price point that represents uncontestable value for money'.

GM's investment in manufacturing the Cruze in India is a demonstration of our sustained commitment to making Chevrolet the most admired and preferred vehicle brand in this country. We believe this vehicle is the right product for India because of the unique product features and fine tuning that were carried out to meet the requirements of our consumer, climatic and driving conditions. As a result, we expect Cruze AT also to set new benchmarks in its segment. By introducing products like Cruze with class leading features, we look forward to continue building on the brand's success nationwide, said Balendran.