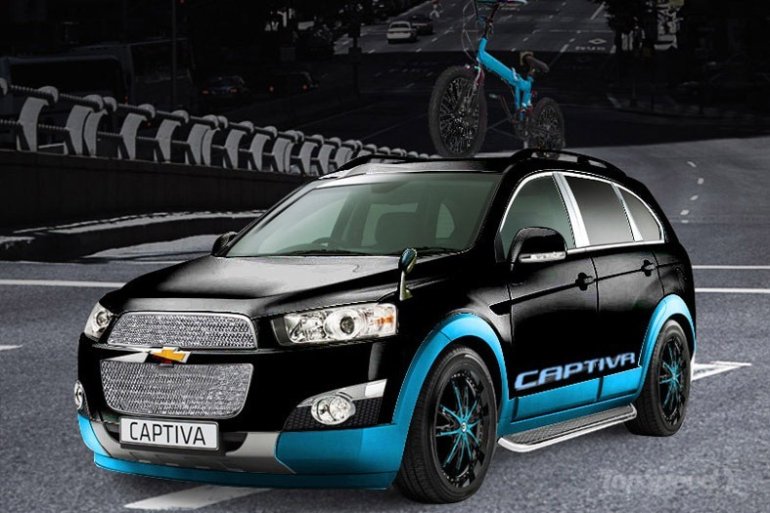 Chevrolet has modest ambitions in Japan. Thus, when it comes to the Tokyo Motor Show, they don't spend as much as they would in let's say the Detroit Motor Show.
So Chevrolet may not bring a huge caravan of concept cars to Tokyo but they are paying attention nonetheless.
The bowtie plans to display three show cars at the Tokyo Motor Show - Chevrolet Captiva Freedom Rider, Chevrolet Sonic Street and Chevrolet Camaro Giovanna Edition.
While the Sonic and Camaro are not strangers to the Indian market, the Captiva is one car that all of us have come to know well.
GM hopes to get the Japanese enthusiast's attention by placing the Chevrolet Captiva Freedom Rider edition at its booth at this month's Tokyo Auto Show.
To be very honest, the Chevrolet Captiva Freedom Rider feels like a last minute job for the Tokyo Auto Expo. In fact, any aftermarket tuner would have gotten more appeal from Chevy's little crossover.
Chevrolet Captiva Freedom Rider features
Matt black paint job along with a light blue ground effect kit
20-inch 'Gianna Crown' alloys with mild blue accents
Chrome finish for the front grille, window surrounds and side steps
It also features a complete body kit from 3D Carbon which features a height-adjustable sports suspension. It also has a roof rack that can hold a full-sized mountain bike.
[Source: Worldcarfans.com]