Ford halts Mustang production due to steep decline in sales in the USA.
The Chevrolet Camaro has outsold the Ford Mustang for the first time in 23 months, in the USA. In September, 6,577 units of the Chevrolet Camaro were delivered, while the Ford Mustang tailed behind with the sales standing at 6,429 units.

While beating the 2016 Ford Mustang in monthly sales, the 2016 Chevrolet Camaro also saw a year-over-year growth of 25.4% in deliveries (September 2015: 5,246 units). The 2016 Ford Mustang on the other hand, saw a year-over-year dip of 32% (September 2015: 9,456 units). A key factor in the Chevrolet Camaro's sales surpassing Ford Mustang's is believed to be the recent increase in the incentives for clearing the inventory of the 2016 model before the 2017 model goes on sale. Incentives on the Camaro have nearly tripled to USD 3,300 in September from August, so GM isn't cheering loudly.
Ford hasn't seen just a monthly drop in the sales of the sixth-gen Mustang, the iconic pony car's year-to-date (January-September) sales have also dropped by 9.3% from 96,225 in 2015 to 87,258 this year. The Chevrolet Camaro's year-to-date sales (January-September 2016) stand, at just 54,535 units - 11.4% lower from the same period in 2015 (61,544 units).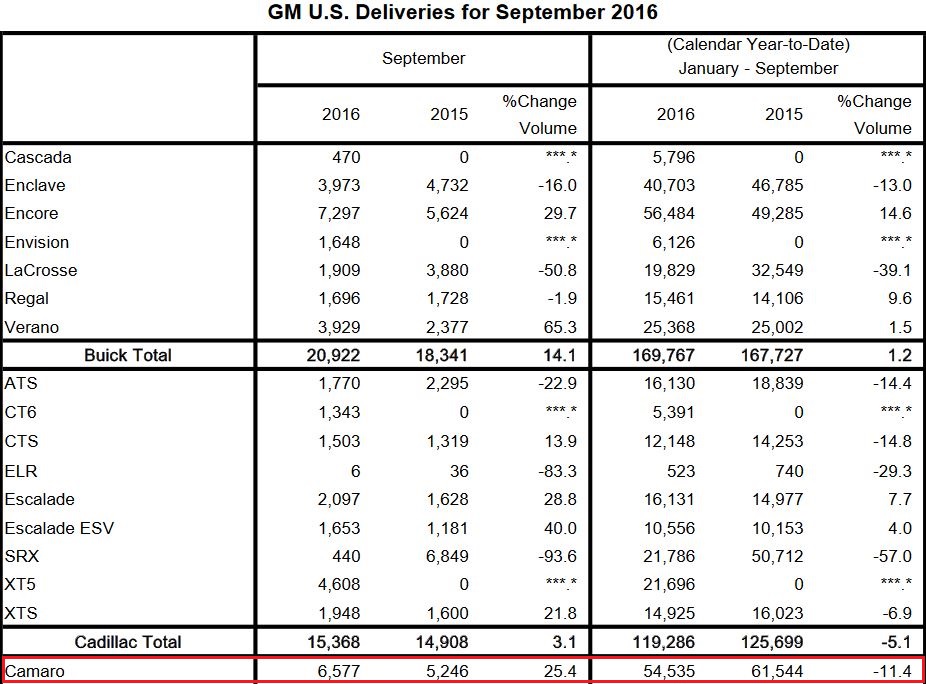 Also Read: India-bound 2017 Chevrolet Cruze diesel gets 9-speed gearbox in USA
Just days back it was reported that the iconic pony car's production has been stopped for a week at the Flat Rock plant due to heavy dealer inventory build-up.
Ford has been seen testing out an updated Mustang in the USA, which they need desperately to raise customer excitement. However the American media is not expecting the refreshed Mustang with the 10-speed transmission before next year.
[Image Source: GM Authority]