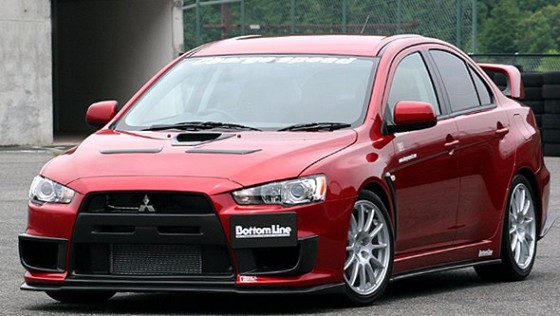 Chargespeed has developed exclusive carbon body kit for the Mitsuibishi Lancer Evo. For all those people who love to alter their cars this is going to be a big treat for them.
For all those people who are wondering who's chargespeed? here's the answer. These chargespeed guys are basically from japan. Established in the year 1986. Chargespeed has been Japan's top quality manufacturer of  body kits and other car performance accessories, parts, and decorative items.
Now what have they got for they new lancer evo? The Japanese company has got right from front number plat to the rear spoiler. The list of parts available for the Lancer Evo are listed below.
FRONT LICENSE PLATE GARNISH COWL
SIDE DUCT COWL
BUMPER CENTER GARNISH
AIRDOM PANEL
CENTER FRAME
RADIATOR COOLING PLATE
UPPER INNER GRILL CARBON
LOWER INNER SECTION PLATE
FRONT BOTTOM LINE
SIDE BOTTOM LINE
REAR BOTTOM LINE
TRUNK
ROOF FIN
FRONT FENDER DUCT
BONNET CENTER AIR INTAKE
BONNET SIDE AIR OUTLET DUCT
In India Lancer is a car which is mainly bought by users who prefer to do a lot of modifications and would love to make it funky and sporty. This product will mainly attract people who are just waiting for the Lancer evo to be launched later this year or early next year. To know about the new lancer evo which is going to hit Indian roads very soon, then have a look at this. To know more about chargespeed products here is their home site, www.chargespeed.com
Chargespeed kit for the Lancer Evolution