Ford unveils the New Ford Fiesta in Delhi.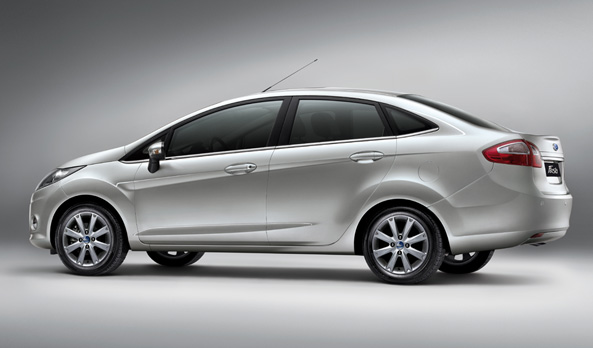 The most awaited sedan was officially unveiled today in the nation's capital. IAB is at Select City Walk, Central Atrium in Saket, Delhi bringing you these updates. After being spied countlessly on the Indian streets, Ford has finally taken the wraps of the new Fiesta and boy is it gorgeous to look at!
Ford is going all guns blazing with the new Fiesta Model. The new Fiesta is available in 2 engine options:
* TiVCT Petrol
* TDCi Diesel
The Fiesta is also loaded with features such as:
* USB / Aux-in connectivity
* Steering mounted controls
* Voice activated control system
* Electronic Cruise Control system
* Mobile inspired center console
Because the Sedan holds a higher aspirational value in the mindset of the consumer, Ford is unveiling the sedan first in India.
Ford is targeting "Ajai" who is a young, tech-savvy individual who would frequent malls and entertainment centers much like where the new Fiesta has been unveiled.
Sadly, this is not a launch so no prices are disclosed yet. Another odd thing to notice is that this car will be on display in Delhi for the next 3 months, So is it that Ford will officially launch the car after 3 months?
Ford has called the display area as "Fiesta Cafe" where mall goers can experience the new Fiesta in flesh and learn more about the features by flipping through them on a TV screen that responds to the movement of the person' hand in front.
But if you are from Delhi, then we suggest you head to Select City Walk mall to have a detailed look at the car because the car will be left behind for masses to see.
If you are not from Delhi, why don't you flip through the brochure that our good friends at The AutomotiveIndia have given us
We are awaiting your thoughts as always :)
Press Release
All-new Fiesta Wows Indian Customers at Fiesta Café Reveal
* Ford India unveils the all-new globally acclaimed Fiesta Sedan – with its eye-catching kinetic design, world-class quality, convenience, and comfort, with rich interiors and voice-activated entertainment and communication consoles – as its premium sedan offering in India
* Dazzling new interactive Fiesta Café experience accompanies the reveal at an upmarket Delhi shopping mall
* Digital ambience, imagery and activities invite all to see, touch and experience the car
* The all-new global Fiesta brings a mix of comfort, performance and connectivity that extends an `always connected' feel, previously unseen in its segment
New DELHI, 14 Apr., 2011 – The all-new Fiesta enthralled customers in India at a first ever Fiesta Café reveal at the Select CITYWALK Mall in Saket, New Delhi today. Taking the crowd of urbane shoppers by surprise, the innovative digital Fiesta Café pavilion revealed the latest new-generation wheels from Ford to complement their active lifestyles and persona – the all-new Ford Fiesta.
The Fiesta four-door premium sedan arrives in India with a tremendous reputation built on the back of an amazing track record of auto award wins, critical acclaim and record-breaking sales. The car has topped international sales charts including over 1 million sales worldwide, and has wowed customers, critics and dealers alike globally.
"The new Fiesta will be a segment-leading product in India with intuitive first-in-class smart features and fuel economy that raises the bar in every way," said Michael Boneham, president and managing director of Ford India, unveiling the car. "Fiesta is a dynamic, premium car that elicits an emotional response from both the observer and driver," he added.
Bold kinetic design
Fiesta's striking new design is a perfect match for the upwardly mobile and strongly independent Indian customer who wants to make a style statement with his new set of wheels.
Fiesta's kinetic design imparts a sense of movement – even while standing still – harmonising 'unmistakeably Ford' character elements to reflect a strong identity, enabling Fiesta to project an air of confidence, style and individuality.
Sleek wraparound "Foxy eyes' headlamps sweep back sharply, hugging the sides of a sculpted, clamshell bonnet. Prominent wheel arches reflect muscularity, athleticism and confident handling. From the side, the Fiesta looks like a sprinter ready to spring out of the starting blocks.
Intuitive, aesthetic interiors
The all-new Fiesta's seductive and aesthetic interiors reveal an advanced technological cockpit which is intuitive and impressively modern.
Fiesta is as dramatic on the inside as it is on the outside. Boldly sculpted surfaces, contrasting colours and comfortable, supportive materials make the interior as individual as the driver. The instrument panel centre stack – focal point of the new Fiesta interior – was designed to feel as useful and intuitive as the keypad on a mobile phone.
Designers found inspiration in modern consumer electronics to create the futuristic look and feel of the Fiesta's cabin and driver controls. This new approach to form and function is a reflection of Ford's Human Machine Interface (HMI) strategy. With high-quality finishing touches in its interior, appealing contemporary materials and user interfaces inspired by the latest personal electronics, the all-new Fiesta is no ordinary car.
Superior driving dynamics
New Ford Fiesta models feature modern, fuel-efficient powertains that deliver exceptional power, class-leading fuel economy and reduced CO2 emissions.
Powered by new top-of-the-line Ti-VCT petrol and TDCi diesel powertrains developed for India, the new sedan delivers excellent handling in city as well as highway conditions, without sacrificing its essentially sporty character. It also comes equipped with Cruise Control that adds to ease of driving and is a first for its segment.
Extreme entertainment and comfort:
A first in this segment, the Fiesta is equipped with smart Voice Control technology paired with Bluetooth®, which provides wireless connectivity to a mobile phone. The Voice Control feature allows the use of one's voice to take control of multiple devices and to make and receive calls, change the radio station, climate control settings or music track, while the music plays through a six-speaker sound system.
"The new Fiesta includes several exciting entertainment and comfort features keeping our Indian customers in mind. We believe the personal electronics inspired centre stack will be a hit among our gadget-savvy customers for whom technology is a way of life – with its purposeful functionality and aesthetics," said Nigel Wark, executive director, Marketing, Sales and Service, Ford India.
"The introduction of the Fiesta further supports our One Ford strategy of providing a full family of vehicles that lead in safety, quality, fuel efficiency and innovative technology," Boneham added.
"Fiesta, which we believe is the right sedan that befits the desired esteem and attitude of our customers, will add further dynamism and diversity to our showrooms nationwide."
Fiesta Café experience
Realising that the Fiesta is an all-round expansion of the personality of the young and upwardly mobile customer with its new connectivity and entertainment features, Ford introduced a unique and interactive 'Fiesta Café' at its reveal pavilion.
Customers can walk in to the café and soak in the Fiesta ambience amidst a digital media environment, cool gadgets and imagery. While a 'Fan Wall' beams live social media feeds about the Fiesta, sonic chairs with integrated speakers invite the customers to sit awhile and learn more about the sedan's new features via iPad applications and an all-new Fiesta menu caters to their tastes.
The café is expected to be a huge attraction among Fiesta enthusiasts with crowds thronging it to check out the cool all-new sedan and its enthralling array of smart features.
The new Fiesta, which will be built at Ford's Maraimalai Nagar plant, is the first model to be introduced under a plan announced by the company last year to launch eight new global Ford vehicles to India by the middle of the decade.
"This youthful spirit is complemented by a dazzling array of smart technologies and features designed to provide a safer and more comfortable ride – features that will engage a whole new segment of customers to drive Ford's momentum in India's high volume and fast growing passenger car B-segment," Wark concluded.