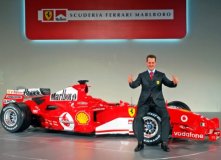 We wish this isn't true.
Michael Schumacher announced he will not return to F1 to fill up the injured Filipe Massa's space in the Ferrari for the rest of the season.
The 40-year old German's neck is proving to be a painful, and admits he would not be able to take the forces sent through his body in an accelerating F1 car.
Schumacher had a fall from his motorcycle in February this year and injured his neck.
Ferrari test driver Luca Badoer will take the place of Schumacher.