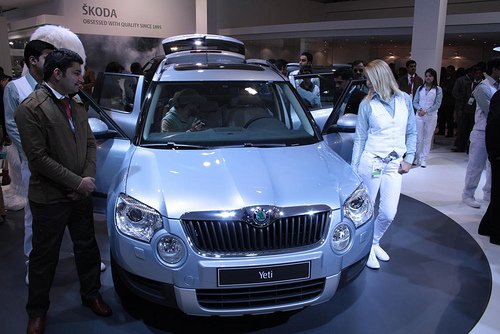 Indian Autos Blog aficionado Bharat Iyer is the craziest 17 year old car freak you can come across. He probably knows 10 times more than what we knew about cars when were preparing to exit teenage.
Bharat attended the Yetival conducted in Delhi yesterday at the Skoda Boutique showroom and got to learn a tonne about the upcoming Yeti. Here's a list of things he learned about the car that you possibly didn't know.
Over to you Bharat.
The Yeti according to them will be coming by Sept/Oct this year but I sense it'll be here much before that. Going by what was said at the event, there will be two variants - Ambiente and Elegant. There will also be a fully loaded Laurin & Klement variant.
The top of the line diesel Yeti could be priced around 18 lakh. The Laura's 1.8 TSI will power the petrol model while the 2.0-liter diesel making 140bhp will be the diesel power source.
The vehicle will have hill descent control and also an automatic 4-wheel drive control unit which channels power to the four wheels depending on the terrain. Bi-Xenons and fog lamps with cornering facility will be present.
The vehicle comes fitted with 17-inch alloy wheels and the rear bench on this car is very versatile. It can be completely removed to increase boot space, it is a 40:20:40 (like on the Honda CR-V) split, so it can also be arranged as a four captain seater. The rear seats can be inclined and pushed back as well.
The car will come with roof rails and beige interiors.