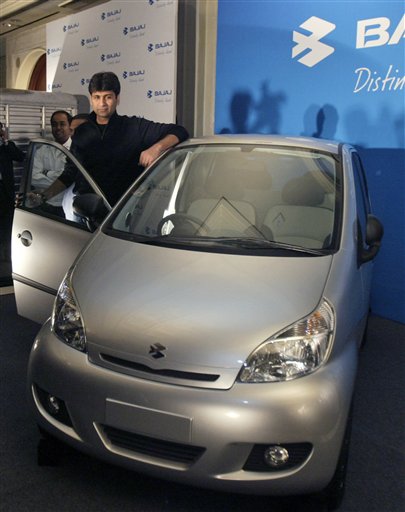 After Tata announced that it was open for talks with Fiat to sell the Nano globally, Bajaj says it too will adopt the same path by selling its $2,500 car overseas through its partners Renault and Nissan.
Renault has number of global alliances like Russian company Avtovaz, maker of Lada cars, in which Renault has a 25% stake. And as far as Nissan it has an alliance in China with Dongfeng Motor.
The MD of Bajaj motors Mr. Rajiv Bajaj said "The Bajaj-Renault ultra low-cost (ULC) car project will spawn products that will be on offer for some of the French auto major's global partners as well". He further that "The products born out of this venture will be available for all global partners of the Renault-Nissan alliance. At an appropriate time the management of the ULC JV will initiate such discussions with all the interested parties."
Mr Bajaj, however, added that although globally Renault has announced target revisions and cutbacks, the ULC project has not been affected by that. "The ULC project is on schedule on all fronts. Preliminary work has begun at Chakan at the proposed plant site."
Regarding the investment the numbers are being worked out keeping in mind the current market demand. Mr Bajaj said "The investments are still being determined with a view to ensure that the ULC JV will be unquestionably profitable at the targeted price point, even in the worst case input cost scenario anticipated for 2011,".
Sources say that the ULC JV is in the final stages and an official announcement would be made in few months time. Presently they are working on the final drafts of their agreement. Bajaj and Renault-Nissan are already negotiating to extend their ultra low-cost partnership beyond a single car. The alliance will spawn an entire portfolio of products from cars to multi-purpose, multi-seater vehicles. Nissan-Renault is focusing on low-cost production centers like India and Morocco to shore up margins and cut manufacturing costs.
Bajaj is trying to take their first car launch to the maximum height. Will it cope up with the expectations is what we will have to wait and see until it gets launched. This also depends on how good the response is for the Tata Nano.
Source- Economic Times