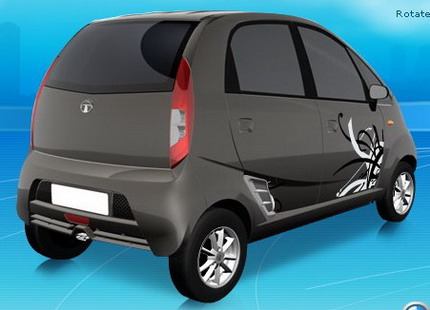 Chief Editor of autoindustrie.blogspot.com, is a car industry expert in Malaysia. His blog, which deals with International autos gives you the best possible opinion of the Auto Industry as a whole. Impressed with his work, we requested him to write us what he thought about the latest sensation in India- the Tata Nano, his opinion and views of this small car which is going to change once in for all, the way we Indians are going to travel. And fortunately for all of us, he agreed to do it.
His theory on the Tata Nano comes across to me as a very sensible and thought provoking one. I read international blogs everyday where people talk so much rubbish about this little car, terming it to be a traffic-jammer and the planet's oil-drainer and some term it as a 'family killer,' without knowing the plight  the lower middle class face in India on a jolly weekend trip. Those who thought the Nano was an unnecessary invention should read this reply before saying another word.
So without any more delays, Ladies and Gentlemen, put your hands together to a man who seems to know it all. I present you, the chief editor of autoindustrie.blogspot.com
Tata Nano to me as a foreigner-
As 2009 beckons, car magazines all over the world will usually publish a list of new models worth waiting for, or the coolest cars coming in 2009. But personally the most important car new model for 2009 is neither the Aston Martin Rapide or Porsche Panamera. Sure the petrolhead in me will lust after these new models but in the grand scheme of things, none of these cars will revolutionize the industry, or even the world in the way a tiny little Indian creation will – the diminutive 623cc 2-cylinder Tata Nano with a top speed of around 70 mph.
After delays due to land rights disputes in, production began early November this year in Tata's Pantnagar facility while its main production site is being completed at Sanand, Gujarat.. The first batch of Nanos will go on sale by Q1 2009.
It is easy to laugh at the cheapest car in the world (estimated at USD 2,500), which is expected to sell at half the price of the current cheapest car in India, the Maruti-Suzuki 800 (rebadged early generation Suzuki Alto). Western media like to paint a grim picture of the Nano, that it is unsafe and that it will cause catastrophic impact on the world's environment by unleashing hundreds and thousands of new Indian drivers on the road. And it is not only westerners that are bashing the Nano. Chairman of Suzuki Motor Corp., the largest foreign car brand in India, Mr. Osamu Suzuki is among the list of critics and he has very undiplomatically scoffed at Tata by saying that building a 1 lakh car (100,000 Indian Rupees) is not possible and that there is no way the car can be made safe enough or even able to survive competition in the industry.
Come to think about, that seems like a very ungrateful gesture from Mr. Suzuki-san to a country who has provided so much opportunities for Suzuki.
Diplomacy aside, the critics are missing the big picture. The advancement to the industry contributed by Nano will not be in terms of design patents or some fancy new technology. The Nano's contribution is 2 folds. It will revolutionise car manufacturing as we know it, similar to the same way Henry Ford did about 100 years ago. Its other contribution will be socio-economic in nature. The text below will elaborate further.
Gandhian Engineering
The New York Times coined term Gandhian Engineering to refer to shift in mindset required to develop the Nano. Personally, the most significant development in the automotive industry is not any new electro-mechanical gadget. But in the changing the way we build cars. There was never a viable car industry until Henry Ford invented mass production, which made cars affordable to the masses. About 50 years later Toyota popularized a set of new manufacturing methods - Just-In-Time production, use of kanbans for inventory control and other set of production and quality control tools under the umbrella of the "Toyota Production System." Some call Toyota Production System "the machine that changed the world." Toyota did not become the largest and most powerful car company in the world by building the best cars. They became the best by knowing how to build cars in the best possible way. Every single car manufacturer now tries to emulate Toyota's methods with varying levels of success.
If Tata succeeds with the Nano, it will herald the next new wave of mass vehicle production method, and with it, a new management fad will be exported. This time from India, and it's called Gandhian Engineering, a loose description for developing products aimed at the growing developing markets. If you consider the fact that the next wave of growth for the car industry will no longer come from saturated markets of Western Europe, Japan or North America but from developing BRIC (Brazil, Russia, India, China) markets, mastery of Gandhian Engineering is even more critical.
The growing significance of BRIC markets have created a new jargon for the industry – LCC (low cost car). Renault-Nissan showed the way forward for LCCs with its Dacia Logan. Today, Toyota and Volkswagen too are at various stages of developing their own LCC models. This is where Gandhian Engineering will need to be employed. The cost structure of LCC cars is such that you can never lower cost enough to make a profit by reducing specs. You need rethink the entire process, including logistics, manufacturing and sales distribution.
Take the Nano's steering rack for example, made by Rane Group. The usual 2-piece steel rod of the rack-pinion system has been replaced by a single piece steel tube, which drastically reduced machining and assembly cost. For the electronic engine management, Bosch created a stripped down version of its standard Motronic DME (ECU), called Value Motronic. Components and sensor count (4 instead of normal 7 – 8 sensors) were substantially reduced with greater integration and many sensor functions are replaced by software emulators.
It's modular design allows the factory to produce kits that can be assembled by local entrepreneurs who will then sell and service the car with nothing more than basic tools provided by the factory, creating further employment for rural communities. Conventional car sales distribution channels cannot apply in LCCs as poor rural areas may not have the facilities or even sufficient profit margin to support a normal 3S center. These new "assembly-sales" agents will probably service their clients on a bike and a cell phone. It's how Tata Group's boss Ratan Tata's idea of distributing wealth.
Mobilising India
Having an affordable and reliable transport is a critical factor in every major period of economic advancement. Look at history, before the Ford Model T, American farmers were always exploited by middle men whom they rely on to sell their produce. One particular Mr. Henry Ford found out that if he were to built standardised cars on mass scale, he can lower the prices of his cars each year. Ford was never a generous man, but to meet the growing demand for his Model T, he had to attract more workers. In response, he introduced the minimum wage of 5 dollars a day. People began moving to Detroit to find a job at Ford's plant. The introduction of 5 dollars a day minimum wage by Ford had far reaching impacts on society. It created middle class, and for the first time ever the everyday man on the street can actually afford a car. The mobilization of America by the Ford Model T is a key factor in America's period of strong growth in the early 20th century. It allowed transportation of farm produce, labour and other raw materials critical for economic activities.
The same story is repeated in Europe. It post-war France, it was the little Citroen 2CV that helped France to recover quickly after World War 2. The product brief was simple, Citroen asked its engineer to build an affordable "umbrella on 4 wheels" that would enable peasants to carry 100 kg of farm produce (including eggs) to market at 60 km/h over unpaved roads. This is not much different from the design brief given by Ratan Tata to the Nano's chief engineer Girish Wagh.
I can go on and on about BMC Mini's contribution to UK, BMW Isetta and VW's Bettle to Germany, but I think you get the picture.
Much of India today relies on motorbikes for their transportation needs. A family of 5 will travel precariously on motorbike, something which deeply concerns Ratan Tata. It's not just India, the situation is similar in Cambodia, Vietnam, Laos and other parts of the Third World. Morally, it is wrong for us to deny these families a decent transport. Much have been said about the UN Millennium Development Goals (http://www.un.org/millenniumgoals/), but at least 5 out of the 8 MDP goals cannot be achieved without mobilizing resources within and around these poor communities with an affordable transport. Think about that.
To answer the critics
1. Safety
Arguments that the Nano does not meet minimum Western safety standards is irrelevant. At worst, it just shows one's ignorance and inability to think independently. Western safety standards like American NHTSA or EuroNCAP are benchmarked against the typical car crashes that happen in those countries. A typical car accident on an American interstate highway or German autobahn is very different from a typical automobile related fatality in India or Vietnam.
How fast can you travel on roads clogged with rickshaws, scooters, bicycles, even cows (India) and elephants (Thailand)?! What are you going to collide with in India? A Ford F-150 truck and a semi-trailer or another motorcyclist and pedestrian? It is worth noting that the Nano's front fascia is smooth, free from any sharp edges. Its rear engine location also means that there is significant crumple zones at the front. Couple these with its egg shaped motive, such designs are exceptionally good for pedestrian safety. A front quarter window with bonded glass reduces blind spots. Thus, in the context of a Third World country, the Nano is a significant improvement in safety for a family of 5 riding on a 2-seater motorbike.
Plus, the high number of road fatalities in India (and other developing countries) are mainly due to poorly designed roads, bad driving ethics caused poorly regulated driving schools and archaic traffic laws. Traffic fatalities in India has more to do with governance and planning rather than the crash performance of vehicles.
2. Environment
The United States produces 7 times more green house gases per capita than China, 12 times higher than the developing world. The most popular car in USA is the Ford F-150 (Camry's title was temporary) that gets 15mpg. So I thought the Nano's 50mpg was an excellent example of a frugal car, one which goes about its business with minimum wastage? Are these critics implying that Indians (and Chinese?) cannot drive so that Americans can continue driving their gargantuan trucks and SUVs while holding the title of the largest CO2 emitter in the world for over 50 years?
True, certain concerns on the ability of roads to cope with the surge of new cars on sustainability of personal transportation are valid. But those issues have more to do with government planning and denying the poor a decent car is surely not the way forward. History has shown that change are best left initiated by the locals, and Indian citizens will need to exercise their position as the world's largest democracy to pressure their governments to pursue a sustainable path.
And by the way, as Nobel Prize winner Professor Joseph Stiglitz said in his book "Making Globalization Work," 2.7 billion people in over 60 developing countries are not being compensated for the free service their rainforests do to remove and store CO2. Yet, it was these rich countries that plundered and pillaged the Earth's resources to raise their standard of living to its current level. And now India is being told by some in the West that they cannot have an affordable car for the masses to lift its people out of poverty. The way forward as proposed by Professor Stiglitz is for countries of the world to push for a common tax on carbon emission. Not completely ignoring the prospect and contribution of a car like Nano.
Summary
History has shown that the automotive industry, mainly run by old men in grey suits, is more likely to gang up and resist change rather than to embrace it. Contrast this to the attitude among leaders from the technology industry respond to change. The differences in the way Google and giant automakers manage innovation cannot be more startling. Remember Big 3 + Toyota's lawsuit against the US Federal Government's CAFÉ regulations to mandate a minimum fleet wide 35mpg law, and another suit against the clean air mandate set by the Californian Air Resources Board? Big 3 will not be in the mess that they are now had they embrace the changes in alternative power train earlier. In normal times, you can be sure that automakers will gang up via powerful car lobby groups to force the Nano out of many markets using a combination of tax policies, crash and emission standards.
The established power hierarchy of giant carmakers and their home countries is more likely to be hostile against the Nano, with Western media as its ally. The Nano may not be in direct competition with them for now, but it does put them in an uneasy position and challenges many of their established business conventions. Just as Big 3 was hostile to the first wave of Asian cars, the Japanese cars brands 40 years ago, they will continue to resist India's entry into their "big boys club." The current woes afflicting the car industry has turned the established hierarchy on its head. Now is an excellent time for Tata to challenge the established power plays. Once the industry has gone Nano, there is no turning back. A little hippie spirit in me wants to see pockets of poverty around the world being lifted out by a tiny little car called Nano.
Autoindustrie is an anonymous blogger at autoindustrie.blogspot.com. He is a former auto industry executive and is currently a motor industry researcher based in Kuala Lumpur.