AMW Motors launched the 3118 TM transit mixer at the EXCON 2013 which concluded in Bengaluru this past weekend. AMW is India's third largest heavy commercial vehicle manufacturer and about 2,500 AMW transit mixers are operational in the country.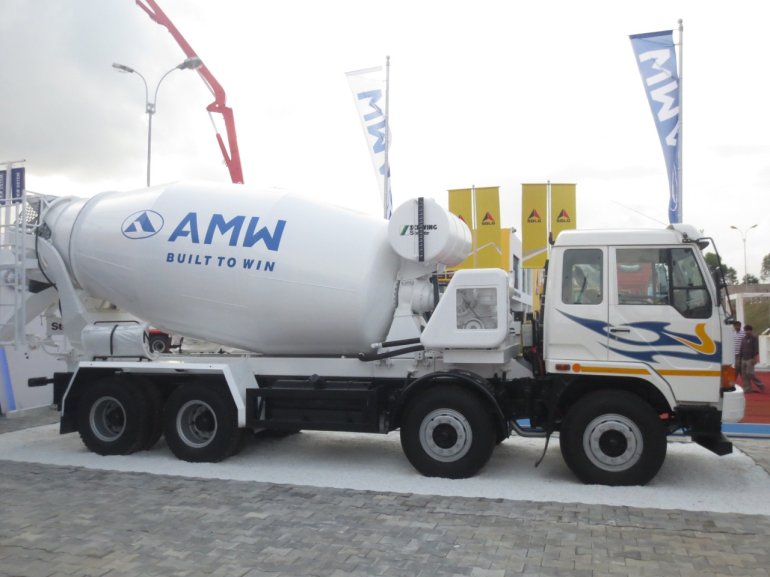 AMW say that the 3118 TM has the lowest transportation cost per cu.mtr, and is suited for longer lead distances with high speed. The 8X4 driveline chassis can be installed with transit mixer drums of 8-10 cu.mtr capacity, and comes with a 10 cu.mtr drum as standard. A 5.9-liter six-cylinder BS-III compliant engine producing 178 bhp @ 2,500 rpm and 675 Nm @ 1,500 rpm spins the wheels. It is matched to a 9-speed gearbox (with crawler gear, and features a CED coating to prevent corrosion). The frame features a 7+7 mm double flitch, a bogie suspension, and the greadability is 28%.
Other features are its 240-liter fuel tank, 78 kph top-speed with 31-tonne load, 20 m turning radius and adjustable steering wheel. The vehicle measures 9.23 m long, 2.47m wide (including the cab) and 2.7 m tall (including the cab). The ground clearance at the front is 280 mm, and 270 mm at the rear.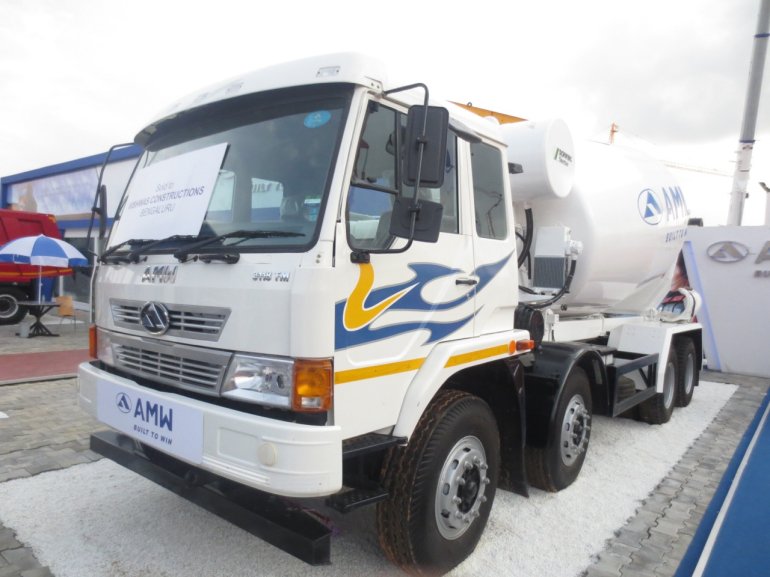 The new product is the first one in its segment to offer air-conditioning and sleeper birth as standard.
The mixer drum is sourced from suppliers and the model displayed at EXCON (featuring a 10 cu.mtr capacity drum) had a slave engine to operate it in case the primary power source met with a failure.
R N Rao, Director Marketing, AMW Motos Ltd. said -
India is witnessing increase in penetration of the ready mix concrete in the growing infrastructure industry. Addressing this growth, we have expanded our transit mixer range with the introduction of all new 3118 TM at EXCON 2013, Bengaluru.
Images sent in by reader Bairesh Raj.