Yesterday Ford celebrated the production of the seven millionth Transit, its most successful light commercial vehicle that launched in 1965. Ford interestingly explains the feat by stating that if all those vans were stacked bumper to bumper, they would reach from London to far south Sydney and back again.
The jubilee Transit rolled off the assembly lines of a brand new plant in Nanchang (China) and was welcomed by Ford CEO Alan Mulally in his usual style - laying a kiss on his new rockstar. The Jiangling Xiaolan facility is the result of a $300 million investment by Ford's strategic partner Jiangling Motors Corp (JMC).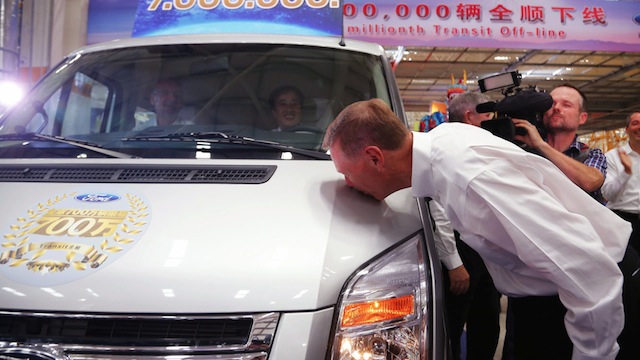 After passing the first million sales milestone in the year 1976, it passed the next millions in 1985, 1994, 2000, 2005 and 2010. The van has been a practical solution to the varied European market where it is the best-selling light commercial vehicle for 40 years.
The Ford Transit comes in a wide range of bodystyles and carries many technological innovations in the CVs sector. Its combination of high cargo capacity, the maneuverability of a car along with cargo-oriented features shoulder this success.
Sales are yet to peak as the Transit prepares to serve North America for the first time in history. Ford's Kansas City plant will begin Transit production in the middle of next year. These plans are in line with the target of achieving the 400,000 annual sales goal in 118 global markets by 2016.