The 2019 Toyota Hilux Revo Z Edition Black Mamba has been displayed at the ongoing 2019 Bangkok International Motor Show. Inspired by the "Black Mamba" - a species of one of the most lethal and fastest snakes in the world - the new model is priced from 599,000 baht (INR 13,11,476).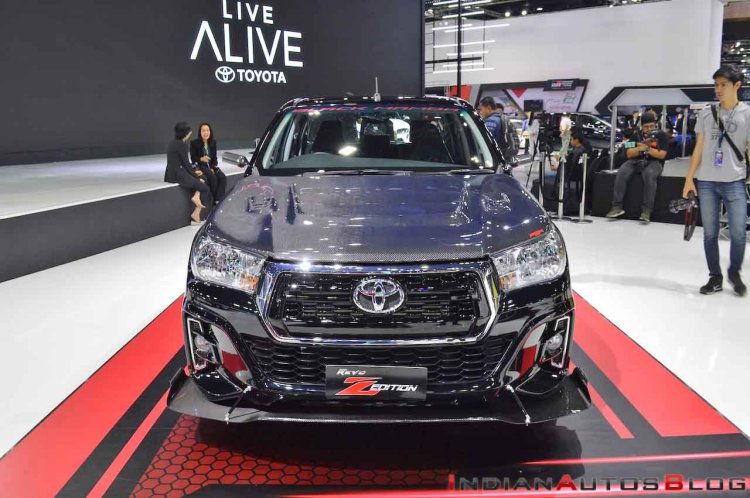 The 2019 Toyota Hilux Revo Z Edition Black Mamba features an entire range of add-ons that work together to give a bolder look. Most of the accessories for the exterior have been made from carbon fibre. At the front, it features a carbon fibre hood with an air splitter, while even the loading bay's door is made of the same material. In fact, even the outside rear view mirrors have been made from the same lightweight material. The decked-up pickup rides on negative-offset 18-inch alloy wheels that have been shod with low-profile sticky rubber.
Even the interior features a handful of updates. The stock front seats have made way for racing seats that are made of carbon fibre and feature 5-point safety harness. The pickup truck even gets a race-spec steering wheel, while its gearknob has an old-school design.
Powering the 2019 Toyota Hilux Revo Z Edition Black Mamba is the company's 2GD-FTV four-cylinder 16-valve DOHC turbocharged engine that produces a maximum power of 150 PS at 3,400 rpm and a peak torque of 343 Nm at 1,400-2,800 rpm.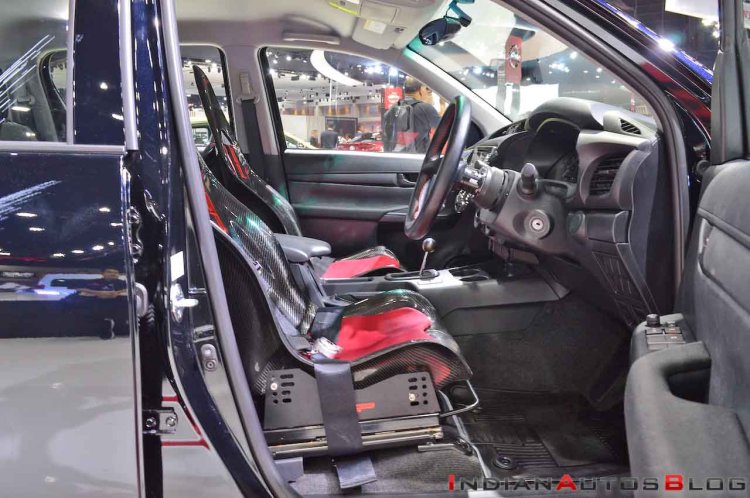 Also Read - 2019 Toyota Camry - BIMS 2019 Live
2019 Toyota Hilux Revo Z Edition Black Mamba - Accessories Price List
The add-ons that are sported by the 2019 Toyota Hilux Revo Z Edition Black Mamba are even available separately for the existing owners of the pick-up truck. Here's the complete price list:
Exterior accessories
Carbon Fibre Front Splitter - 18,000 baht
Carbon Fibre front hood - 15,000 baht
Carbon Fibre trunk lid - 13,000 baht
Carbon Fibre roof cap - 4,000 baht
F1-style side mirror (both left-right set ) - 6,000 baht
18-inch rim, 9.5-10-inch size, with tires - 45,000 baht
Wheel spacer- 6,000 baht
Custom decals - 10,000 baht
Interior accessories
Race-spec steering wheel - 4,000 baht
1 pair of Carbon Fibre seats - 50,000 baht
1 pair of seat rail adapters - 6,000 baht
Carbon Fibre rearview mirror - 3,000 baht
Spherical titanium gear head - 3,000 baht