The 2019 Ford Endeavour (facelift), which was launched late last month, is being sold with a range of official accessories that can help the customer to personalise the SUV as per individual requirements. The accessories package for the Ford Endeavour comprises various add-ons for both interior and exterior.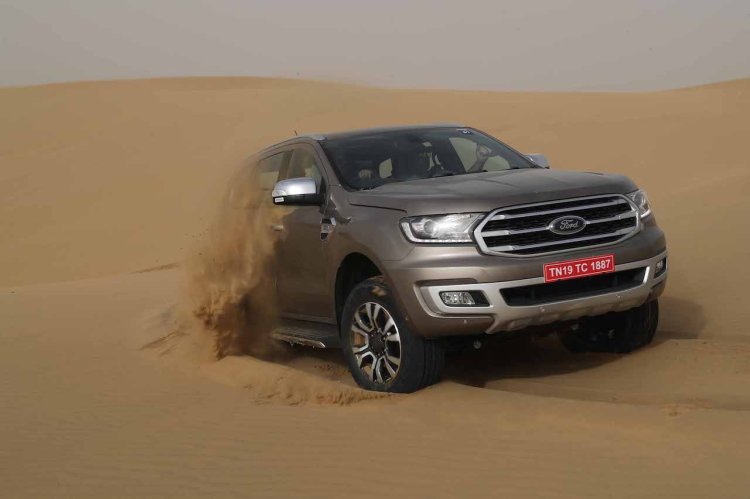 For the exterior, customers of the 2019 Ford Endeavour (facelift) can opt for the Hurrican pack, which brings in plastic body cladding that imparts a more rugged look to the already bold SUV. One can also choose for a Teflon coating to protect the paint from minor scratches, while an anti-rust coating should be beneficial for all those living in the coastal areas. Furthermore, one can even opt for a Slimline weather shield to preserve the paint from the harsh climatic conditions. Other available options include a premium body cover, body graphics, and a basic body cover.
On the inside, the customers of the 2019 Ford Endeavour can opt for a rear entertainment system for making the entire travel experience more enjoyable for the occupants of the middle row of seats.  Other than these, the company is providing a cargo cover, sunshades, illuminated scuff plates, and transparent floor mats. One can also opt for a thermocooler, a GPS tracker, an air pump cum vacuum cleaner, and an ashtray to enhance the convenience level offered by the large SUV.
The standard features of the top-spec Titanium+ trim include keyless entry with push-button start/stop system, 8-way electrically adjustable front passenger seat, gesture-controlled smart opening tailgate, SYNC3 touchscreen infotainment system with Apple CarPlay and Android Auto, Panoramic sunroof, Driver's knee airbag, Ford MyKey, Tyre Pressure Monitoring System, Dual-zone climate control, semi-auto parallel park assist, and Terrain Management System.
Also Read - 2019 Ford Figo (facelift) revealed, Launch on March 15
2019 Ford Endeavour Accessories with Prices
Hurricane pack (plastic body cladding) – Rs 38,000
Teflon coating – Rs 12,000
Anti-rust coating – Rs 6,000
Slimline weather shields – Rs 5,800
Premium body cover – Rs 4,370
Body graphics – Rs 3,800
Body cover – Rs 2,050
Rear-seat entertainment system (1 piece) – Rs 22,000
Rear-seat entertainment system (2 pieces) – Rs 40,000
Illuminated scuff plates – Rs 11,900
Cargo cover – Rs 11,600
Sunshades – Rs 6,600
Transparent floor mats – Rs 1,200
Thermocooler – Rs 15,000
GPS tracker – Rs 12,500
Air pump + Vacuum cleaner – Rs 3,800
Ashtray – Rs 1,100
[Source - autocarindia.com]