The 2014 Toyota Vios made its debut at the Bangkok Motor Show in March.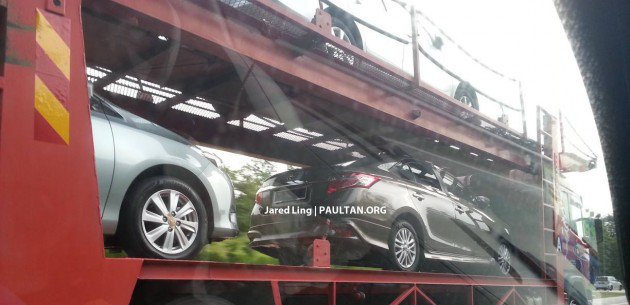 The completely redesigned sedan has nothing in common with its predecessor. Be it the interior or the exterior, the new Vios is a complete revamp.
Having launched the car in Thailand, Toyota is slowly spreading the global footprint of the new compact sedan. A fleet of new Toyota Vios sedans were spotted on a transporter truck in Malaysia by Mr. Jared Ling, a reader of Paultan.org. This suggests that stocks have already started arriving ahead of its launch in October.
The Vios is made in Thailand and exported to 80 international markets. It is one of the best selling cars in Malaysia, in fact it's the best selling non-Malaysian car nameplate in the country.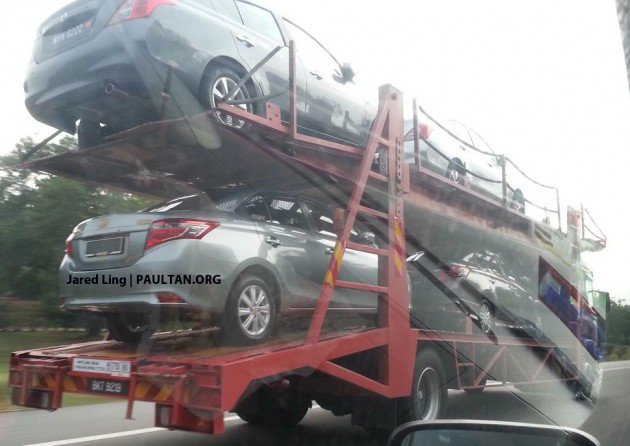 From these spyshots you can see two different variants of the Vios. The first car sports an aero body kit and multispoke alloys suggesting that it's the 'G' variant while the car behind appears to be the 'E' variant. There will also be a 'J' variant and a top of the line 'TRD Sportivo' variant for the Malaysians to choose from.
A 1.5 litre petrol engine with 109bhp and 141 Nm on tap spins the wheels through either a 5-speed manual or a 4-speed automatic transmission.
The 2014 Toyota Vios is expected to enter riding on the success of the car it's replacing.
[Source: Paultan.org]