The 2014 Toyota Corolla was announced in two specifications. While the North American markets are getting a sportier looking Corolla, the Europeans and us Indians would be getting the Europe spec Corolla that you see here.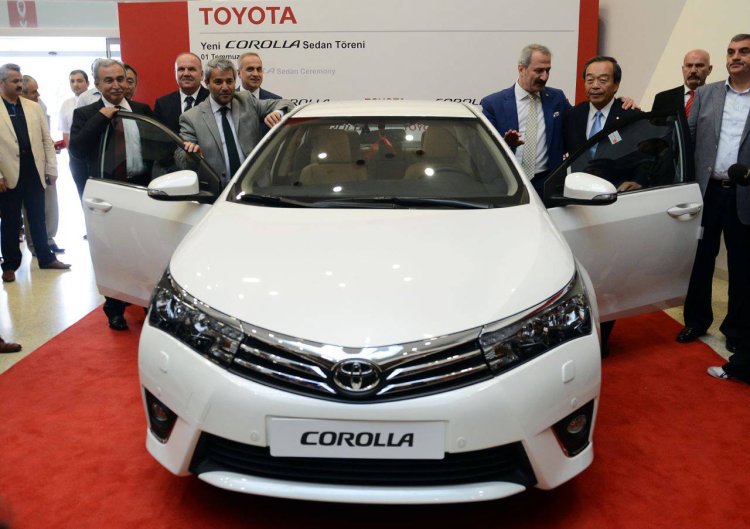 The reason for this is quite simple. Toyota's market research has shown them that the majority of the Corolla owners in the USA are self driven, while those in places like India, Thailand and other Asian and European markets are chauffeur driven. Hence, Toyota feels the need to have this European version which is not sporty looking, but looks premium and upmarket instead.
With the explanation out of the way, today's headline is that the first unit of the Europe spec Corolla has just been produced! The Corolla has commenced production in the Sakarya plant, located in Turkey. The first ever Corolla was finished in a white color while being welcomed by its Japanese and Turkish company officials.
Over 85% of the Corollas produced here would be exported to various parts of Europe, Africa, Middle East and Central Asia. Toyota has invested 150 million Euros in this plant, just for the production of the all new Corolla. In the process, 900 jobs were created.
The annual production capacity of this plant would reach 150,000 units by 2014.
Check out our exhaustive coverage on the 2014 Toyota Corolla
For India, the 2014 Corolla will be launched in the middle of next year. It would continue to be available with a diesel and petrol engine option.
2014 Toyota Corolla production commencement in Turkey Image Gallery
Head to the next page to read the press release.

Press release - 2014 Toyota Corolla production commences in Turkey
[Can't see the document here? Head to Scribd]