Official images of the 2014 Honda Jazz (2014 Honda Fit) found their way to the internet last month through magazine leaks. Since then, Honda have themselves released images and details of their new B+ segment hatchback.
[Head to YouTube if you're unable to watch the video above.]
Here is a documentary of the 2014 Honda Jazz/Fit Hybrid shot by the Japanese media. Needless to say, only Japanese is spoken and our comprehension of the language extends to the use of the words Hello (konichiwa) and Sir/Madam (san).
However, you can watch the new Jazz spin its wheels and attack a few corners at the testing facility in the clipping.
Check out our exhaustive coverage on the 2014 Honda Jazz/Fit
The video starts at the 0:40 mark and gets various Honda engineers to talk about the design and the engine of the new Jazz. At the 7:44 mark, you can see the new Jazz being compared to the old Jazz (screenshot attached). This picture gives you the real design evolution of the futuristic hatchback.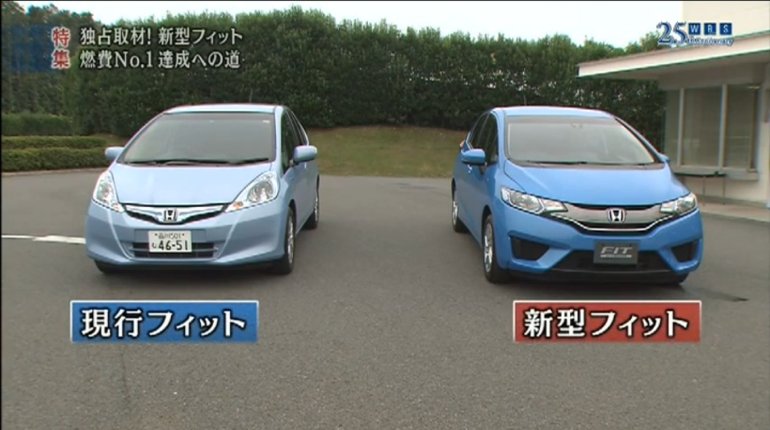 The Jazz in this video is a hybrid vehicle using a 1.5-liter petrol engine mated to a Honda i-DCD (intelligent dual clutch drive) 7-speed transmission. Honda has announced that the Fit hybrid would deliver 36.4km/l based on the Japanese JC08 driving test. This is possible thanks to the constant engaging and disengaging of the motor and the engine. You can also see a real time infographic which shows where the Jazz's hybrid system is sourcing power from.
For India, the Jazz would make its comeback in 2014 with a diesel engine and there is a good chance you can catch it at the Auto Expo in February 2014.