The 2014 BMW X5 went on sale in India today. The new X5 competes with the GL Class from Mercedes and the Q7 from Audi. While the Q7 is also available with a 4.2-liter TDI engine, we have chosen the 3.0-liter variant for comparative purposes. Note that this article only compares the technical specifications.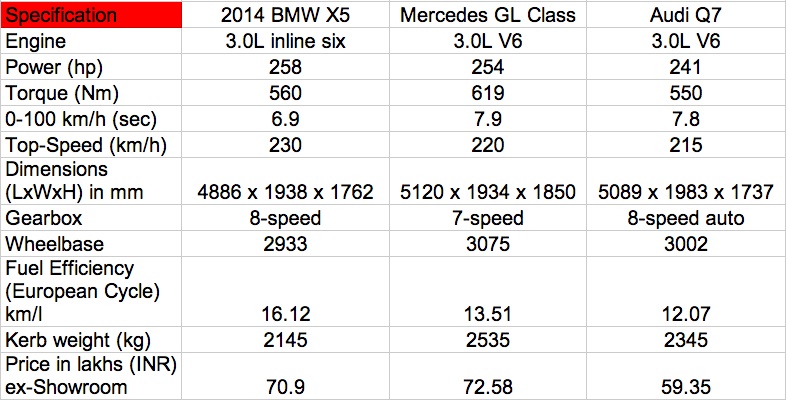 All three SUVs come with a 3.0-liter six-cylinder engine. While the Merc and Audi sport a V6 layout, the Beemer gets an inline arrangement. The X5 is the most powerful of the three, producing 258 hp, while the GL Class comes a close second at 254 hp. In terms of torque, the GL makes substantially more at 619 Nm, while the BMW and Audi make 560 Nm and 550 Nm respectively.
In terms of acceleration and top-speed, the X5 is the quickest and fastest taking 6.9 seconds and achieving 230 km/h. The X5 is nearly a second faster than its closest rival, which may be attributed to its kerb weight of 2145 kg, which is the lightest in its segment.
The lightness also helps the X5 to achieve 16.12 km/l in the EU tests, as compared to the GL's 13.51 km/l and the Q7's 12.07 km/l. While the X5 and Q7 are fitted with an 8-speed transmission, the GL comes with a 7-speed unit. All cars come with 4WD.
In terms of price, the Q7 is the most affordable at INR 59.35 lakhs. The X5 and GL are priced at INR 70.9 lakhs and INR 72.58 lakhs respectively (all prices ex-Showroom). All three SUVs are assembled in India.