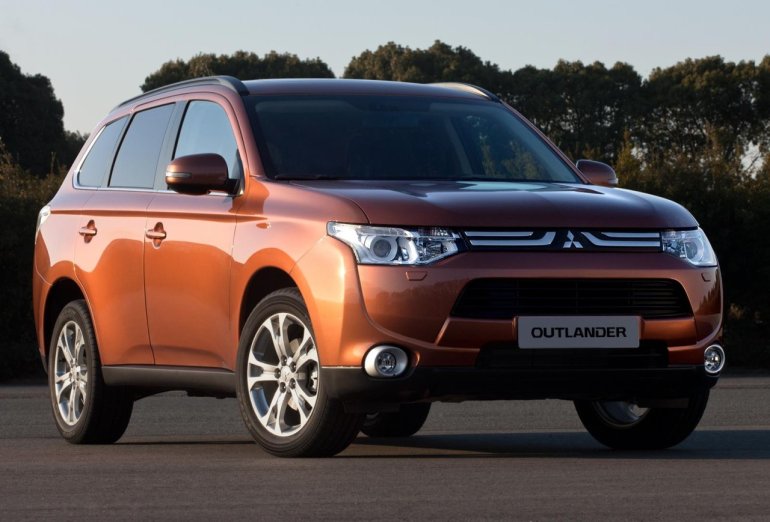 Six years after the introducing the second generation Outlander and eleven years after the launch of the first generation crossover, Mitsubishi has unveiled the third embodiment of the Outlander at the 82nd Geneva Show which falls under MMC's "Jump 2013" plan for a greener and global future. Here's a walkthrough of all of the new features in store -
Design and construction -
"Solid – Safe – Simple" shape blending trimmings from the Concept PX-MiEV and Concept PX-MiEV II expo cars. It sports a slim front grille with hockey-shaped chrome garnish.
High grade materials are used on the interiors with padded surfaces, soft-touch finish, silver or wood accents,2 gloss black appliqués tied in with high-resolution and easy-to-read instrument displays.
It has the ability to carry five or seven passengers.
Powertrains -
In Europe, two engine options are on offer:
1. "4J11" – a 150ps 2-liter MIVEC petrol with a new valve train.
2. "4N14" – a 150ps, 2.2-liter Clean Diesel boasting of a low 14.9:1 compression ratio
Start-stop feature, six-speed gearbox and optimization of the body leading to lower weight lead to lower fuel consumption
Safety features -
Adaptive Cruise Control system which can maintain a safe distance to the vehicle in front
Forward Collision Mitigation system that applies brakes if it detects obstacles in front
Lane Departure Warning system - Visual and buzzer warnings if sudden lane changes happen
Super-HiD "Wide Vision" xenon headlamps that are 1.4 times more powerful than conventional HID headlights providing a 1,350-lumen beam that shines over an area 80°x 2, instead of the 42° x 2 of conventional HiDs.
Comfort -
Dual zone air conditioner
Improved NVH (noise, vibration and harshness)
3rd row with 50/50 split seating replacing the jump seat arrangement
Utility -
1.69m long flat floor after the 2nd and 3rd row seats are folded down (+ 335 mm versus the previous Outlander).
One-piece power tailgate
Mitsubishi Outlander hybrid model -
EV-based plug-In hybrid power-train based on MMC's EV technology, and extensive 4-Wheel-Drive expertise provides the following driving modes -
Pure (Twin Motor 4WD EV).
Series (Twin Motor 4WD EV supported by ICE [Internal Combustion Engine] generator).
Parallel (Twin Motor 4WD EV supplemented by ICE at higher speed - Electric motors assist in acceleration without gear shifts).
The combined range of the Outlander hybrid will be over 800 km.
Body dimensions -
Length: 4655 mm
Width: 1800 mm
Height: 1680 mm
Wheelbase: 2670 mm
Mitsubishi has not provided a timeframe for the launch of this new model but we assume dealers in Europe will begin receiving this model this year.