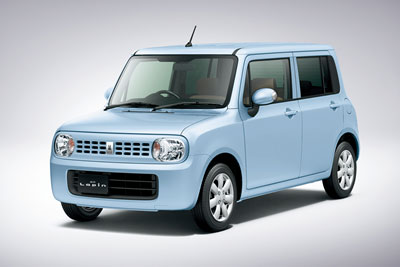 The 2009 Suzuki Alto Lapin, has been revealed in the Japanese market. The outgoing Alto Lapin was sought-after by female drivers aging around thirty five and the new Alto Lapin, is looking forward to impress teen buyers as well.
2009 Suzuki Alto Lapin is Wagon R based and uses a 660cc engine
The Alto Lapin is stationed on the Wagon R platform and is powered by a 660cc in-line three-cylinder VVT engine which in its standard self outputs 54 hp, and when turbocharged, presents 64 hp. The 660cc engine is paired either to a four-speed automatic transmission or a CVT. Buyers can choose between the 2WD and 4WD variants.
2009 Suzuki Alto Lapin Image Gallery



2009 Suzuki Alto Lapin could be popular among women and teens in India
I can't seem to understand why the Suzuki Alto Lapin is not sold in India. It's based on the Wagon R's platform, which makes matters easier for manufacturing it here. The 1.0-litre KB-Series engine would be an easy fit effortlessly under the Alto Lapin's bonnet. This car could be marketed as a woman-specific car just like how Hero Honda markets its Pleasure scooter.
IAB Comment- The Box-like design allows easy ingress and egress. It also increases the volume to surface ratio of this car translating into more interior space.  Along with the Splash, this car could be launched marketed as a woman's car- How about "Women are back" for a change? This car has all that it needs to be the budget Fiat 500, we feel here in IAB.