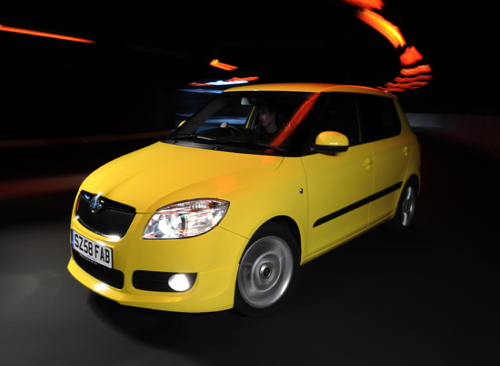 The Skoda Fabia Sport was launched in the European market this year. We are quite sure, Skoda will bring it here to India next year - Here are the reasons why.
Firstly, Skoda is doing quick sales of its Fabia, and has built a stable foundation for future exploits in the luxury-hatchback segment. This car is a sheep in wolves' clothing! It may boast a deeper front spoiler, 16-inch alloy wheels,front fog lights, halogen headlights with DE module, boot spoiler, a chrome exhaust pipe and rear diffuser for exterior styling, curtain airbags, sunset glass, sports seats, a three- spoke leather sports steering wheel and a lower ride height, but what is the point of adding all this weight without changing the engine?
The 1.2 12V 70 bhp and the 1.4 TDI PD 80 bhp engines from the regular models are still used in in the sports version. You call it sporty eh?? Adding more weight and retaining the same power train to a car makes it less sporty! (They should have called Fabia sans Sport !)
Secondly, Making a few cosmetic changes, and sticking a 'Sport Badge' at the rear, seems to be a good low cost option and work well in the Indian Market( Like the Honda Civic's Sports version).The modification will see only a marginal price increase of no more than £300(Rs.25,000) per vehicle.
Head of Skoda , Chris Craft, said: "There's a proven appetite among buyers for sporty looking cars that don't come with the added expense of a big engine."The Fabia Sport looks fantastic, but won't break the bank when it comes to insurance premiums and fuel bills – which is particularly pertinent at the moment."
Warning: Embarrassment ahead for prospective buyers!!
If by any chance you end up buying this car, never compete with a regular Fabia, say for a quarter mile drag race. This car is miles slower than the old one! Considering it a spiritual successor to the last generetion Fabia VRS will be the mistake of your lifetime. It somehow lacks the touch of sportiness altogether.
IAB Comment: This car is for the buyer who wants a car with sporty looks, good mileage and practicality. If it were a performance hatchback you were looking for, this is not a car for you. This car is not a 'Hot-Hatchback' by any means!!