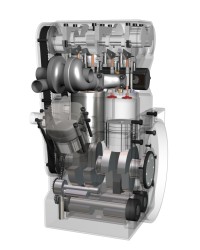 Ford has confirmed that it is working on two- and three-cylinder petrol engines with displacements of 1.0-litres or less. Ford says these small capacity engines are about three years away from a production line.
Which brings us to this question - Will our small car in the future use it to its benefit?
Ms Barb Samardzich, Vice President of Powertrain Engineering at Ford, US operations -
I think you'll see all of those things (2 and 3 cylinder engines) roll out. It's more than experimental.
Although Ms Samardzich did not speak about the cars in the contention, common sense dictates it would be small hatchbacks like the Ford Ka and our very own small car (unveiling scheduled next week) could use them to good effect.
Apart from these engines, Ford is also planning to manufacture turbocharged engines of lesser capacity.
The Tata Nano which went on sale on March 23, uses a 623cc 2-cylinder engine that makes 35bhp.
Source - Autoweek