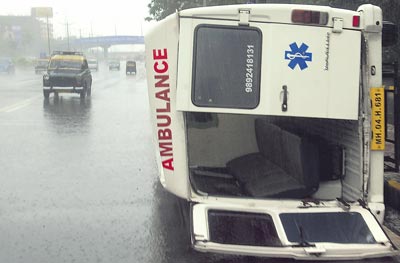 No, these are not the performance figures of some new generation Supercar with a trillion horsepower, but they are the casualties recorded on the recently resurfaced Mumbai's Eastern Express Highway in India. 136 accidents were recorded in just 5 days after the Rain gods opened up on the Island city.The full stats are : 136 accidents in which 47 motorists were injured and 6 deaths in just 5 days on the special part of the Highway, which is 17km long. To those in Mumbai,these figures come as a big shock.
Mastic Asphalt is the special material used in place of normal asphalt for the surfacing of this stretch.Mastic asphalt, besides having great advantages like velvet smooth ride quality and longer life, will prove to be very fatal if not laid properly. It will be the ultimate playground for the D1 Drifters if it is not laid according to a set of regulations and would make the already impressive drifters a sensation. This is of special importance in the Indian context where the civic bodies (MMRDA : Mumbai Metropolitan Region Development authority in this case) outsource these sort of jobs to private contractors and don't follow them up nor keep a check on the quality of the work. MMRDA,when contacted refused the allegations and instead blamed the high speed of the vehicles and the traffic marker signals on the road.Under considerable pressure from the media and motorists, MMRDA took up repair work and since then the frequency of accidents have taken a dip.
Lets get to the technical bit about Mastic Asphalt and how it compares to the Normal Asphalt.Mastic Asphalt is a type of asphalt which differs from dense graded asphalt (Asphalt Concrete) in that it has a higher bitumen (binder) content, usually around 7-10 of the whole aggregate mix, as opposed to roller asphalt, which has only around 5 added bitumen. Another asphalt which is fast gaining global popularity is Stone MAstic Asphalt (SMA). SMA's advantages over rolled asphalt is its high anti skid qualities due to its high aggregate density and the lack of void content (air pockets). Another advantage of SMA is its longer durability over alternative road asphalt surfaces, but its manufacture and application, if not controlled closely, can result in slippery road surfaces due to excess bitumen pooling (bleeding) onto the surface.
In spite of the mastic roads' bad reputation (blame it on the contractors),the MMRDA is gearing up for resurfacing several roads in Mumbai into the Mastic Asphalt type. Let's just hope the future roads are laid properly so that it would win back some of the reputation that it has lost.