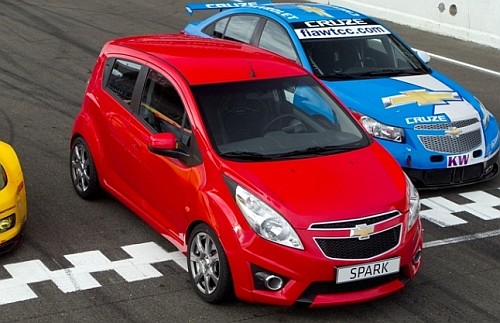 Chevrolet has built a special edition of its new Spark (Beat) to be used as a pace car during World Touring Car Championship races this year.
The WTCC Spark comes with a 1.4-liter petrol engine which is turbocharged producing 140 horsepower! The addition of just 200cc and a turbo enables the Spark pace car to give 60hp more than the Indian spec Beat.
The turbocharged WTCC Chevrolet Spark will make debut at the Zolder event in Belgium on June 19-20.
Press Release
Chevrolet Corvette Racing At Le Mans Receives Family's Support
The Cruze WTCC and the new Spark WTCC Leading Car paid a visit to the C6.R GT2
2010-06-09
ZURICH – LE MANS, 9th June 2010 - The entire Chevrolet family is this week behind the Chevrolet Corvette C6.R GT2 which is participating in the 24 Hours of Le Mans, the greatest endurance race in the world. The iconic Chevy sports car, after having dominated the GT-1 scene for many years, is making its debut in the highly-competitive GT-2 class. The two Chevrolet Corvettes entered in Le Mans will be driven by Magnussen-O'Connell-García and Gavin-Beretta-Collard.
The Chevrolet Corvette C6.R has recently received on the French track the well-wishing visit of her two cousins, the Cruze WTCC, the current leader in both the Drivers and Manufacturers categories of the World Touring Car Championship (WTCC), and the youngest member of the family, the Spark WTCC Leading Car.
This spiced version of the Chevrolet's city car, equipped with a 1.4 turbo and 140 hp engine, has been entrusted the key task of leading the pack in the WTCC, as it will be the official leading car in selected events of the series. The Spark WTCC Leading Car will be displayed in public for the first time at the WTCC round in Zolder on 19-20 June. It will carry a sparking red livery, but only for that occasion. Its definitive "dress" will be the winning design of this year's 'Young? Creative? Chevrolet!' contest for young artist throughout Europe.