Are you a fan of IndianAutosBlog? Are you a person who'll do anything for Top Gear or the Bugatti Veyron? Do you extremely like and dislike certain cars? Whichever the case we have big news for you!
IndianAutosBlog invites petrolheads to update their status messages on their Facebook account and Twitter channels to win a copy of these recent introductions -
The Top Gear Story by Martin Roach - Published last year, this book provides the entire story of the most famous motoring program on television. Right from its humble beginnings to the stage where it reached unstoppable popularity this book reveals it all! Both you and I know this is going to be a very interesting read! Head over to Amazon.com to find out more about this book.
Bugatti Veyron A Quest for Perfection: The Story of the Greatest Car in the World by Martin Roach - Published in September 2011, this is a fantastic addition to your book case. If you don't have one, don't worry as this is a coffee table book talking about every aspect of the Bugatti Veyron, indisputably the big daddy of all achievements in the field of automobile engineering. Head over to Amazon.co.uk to read reviews and a glimpse of some pages.
This is how it works -
Contest 1
Step 1 - Head to IndianAutosBlog's Facebook page and "Like" it
Step 2 - Return to your FB profile page and fill in a sentence starting with "I like" followed by the car and a catchy reason in a single sentence and end it with a tag to Indian Autos Blog's FB page. Here's an example - Don't use the same one as that will not count as an entry.

If your status box can't detect our page, start typing @Indian Autos Blog to find it.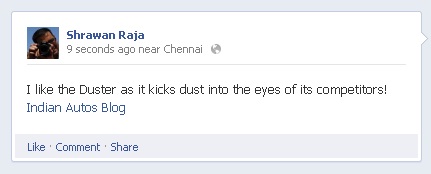 Step 3 - Hit "Post" and see what your friends have to say about your favorite car. It's cool if they can participate too.

Meanwhile we'll keep a track of what you have to say as the post would have appeared on Indian Autos Blog's page wall (example above), thanks to the tag.
Contest 2
Step 1 - Head over to your Twitter Account. If you don't have one, then make an account - it takes less than five minutes.

Step 2 - Follow us on Twitter. If you are already following us, go to step 3.
Step 3 - Type #IndianAutosBlog @indianautos followed by "I dislike" and the name the car and the reason in a polished and funny language. If you use abuse words, your entry is automatically disqualified. Below is an example, again please don't use the same tweet.

Step 4 - Retweet this post using the button at the bottom of this post.
Contest rules
1) We recommend you participate in both contests to increase your chances of winning a prize thought its not compulsory
2) If you use abuse words or start your sentence as  "I hate"  or "I love" you don't stand the chance to win any prizes. Use only "like" and "dislike" at the start of your sentence.
3) If you don't tag Indian Autos Blog's Facebook page, we will not be able to see your entry and hence you don't qualify for the contest. Use not more than 111 characters on your status message to describe your love for your favorite car.
4) There are no limits on the number of entries a person can submit. You can put out a 100 messages if you want! We will judge the winner based on the how funny, factual and popular their line is. If you entry is retweeted, liked and shared several times, it stands a better chance of edging out the equally hilarious entry, in case there is one.
5) Indian Autos Blog's team members will collectively decide the winning tweet and FB status.
5) This contest is only open for readers from India who are over 18 years old. Contest ends at 11PM  Sunday night (12th of February, 2012) . One winner from each contest will be announced on Sunday morning and we'll get in touch with them regarding the prize.