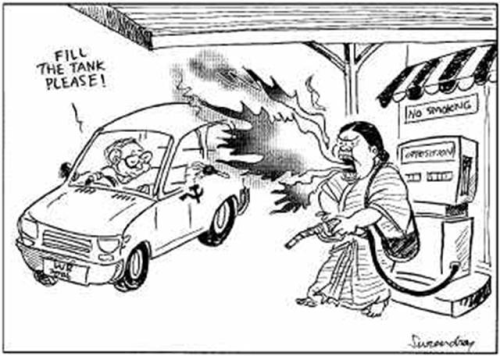 First Automobile Works Ltd, a Chinese company, is ready to invest in West Bengal along with an Indo-Russian Joint Venture, Ural India Ltd. Ural India is a joint venture between Uralaz of Russia and Kolkata based Mitijug group. They plan to launch heavy duty and high performance trucks.
The West Bengal Chief Minister has announced that the state government is will be formally announce the new project for Singur shortly. "We will let you know when we make a firm decision," he said. He also added that the State government had several proposals on hand and stated that "The Tatas will return the land whenever we ask them to do so."
With the pullout of the Tata Motors last month, the state has lost the investment of at least 12 German automobile companies and 59 automotive companies, the Indo-German Chamber of Commerce revealed
German part of the story after the break..
"Apart from Nano, the state has lost over Rs 500 crore of automobile and automotive investment. These companies could have made the state a large automobile hub," said Gupta, the Government spokesperson.
A German delegation of 65 investors which came to India recently, refused to visit Kolkata, citing political instability as a reason. They went to Pune, Mumbai and Bangalore. So while Bengal has only 25 German companies, the city of Pune ended up with 250. German auto component giant Bosch Wagon that designed and will manufacture 60 per cent of the auto components for Tata Motor's cheapest car Nano, has cancelled its plan to set up plant in the state."We had planned a plant in Singur for manufacturing braking systems, starters and generators at the insistence of our customers Tata Motors. Since the Tatas have moved to Sanand (Gujrat), we will also set up a plant there," said Rana Mathew, spokesperson, Bosch Ltd (Bangalore).

The Indian part of Bosch Wagon will be supplying the fuel injection system, starter motor, alternator, glow-park, generators and braking system to Tata Motor's Nano project at Sanand.

"Many prospective foreign delegations are understandably reluctant to travel when they read reports on industries being pulled out from West Bengal," said BG Mukherjee, regional director, Indo-German Chamber of Commerce. According to him, Corporates are not bullish any more about fresh investments here unless they have a compelling reason.

"The political instability is being discussed by global CEOs and international venture capital and private equity funds. It's suffering from a brand dilution syndrome due to political ill-will and instability. Many potential investors have been moving away to peaceful pastures," added Mukherjee.

IAB Comment: West Bengal government is now paying the price for maladroitly handling the Tata Nano's Singur issue. Clearly, at this point West Bengal's automobile future is under question.