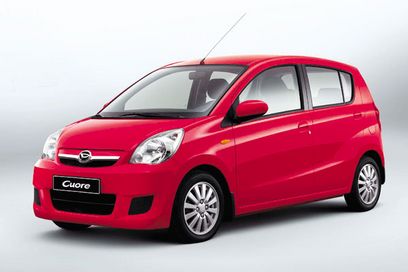 Toyota's small car -
Indeed this is big news. It will be the first time a company in India is launching cars under a sub-brand.
Toyota has not introduced many cars in India. Look at their international line-up. It has so many cars that if you ask one of Toyota's own engineers, they would not know how many they made.
Speaking to the humble man who heads Toyota in India, Mr.Nakagawa was finding my questions a little humorous at the new Camry's launch in Bangalore exactly a month ago. I asked him questions like whether or not the iQ was on the Indian platter and if the Hilux (based on the Innova's architecture) would reach here. I even asked him if the Aygo, Yaris and the Prius could make sense in India, since I felt those cars were cool (no, I don't know what market survey is and yes, I do know they can always go wrong).
Toyota was sure their future small car could do a great deal of damage to their competitors' bottom line. They were not willing to share details except that it would not look very unique and only a petrol engine would be fitted initially.
Now, BS Motoring reports more than one small car donning the Daihatsu badge would arrive in India. The big question here is if the new small car could also be among the Daihatsu arsenal.
Dato Akira Okabe, senior managing director and member of the Toyota Motor Corporation board -
We may look at launching more than one compact car model for the (Indian) domestic market. Our current market share in passenger vehicles is 3 per cent. In the next four years, we hope to sell three times our current volumes. And by 2015, our rate of growth will be in double digits.
Toyota's entry-level SUV plans -
The recently launched Fortuner is priced at 18.75 lakh and the company is looking at bringing in a SUV that will be priced well under 15 lakh. This will mostly be an option for those looking for more fun, quality and character in the Safari-Scorpio segment. The next generation Safari and Scorpio are getting ready to see the light mostly by the end of next year and improvements in quality and technology could make it a little bit more difficult for the Toyota SUV to exercise dominance right from the start.
Source - BS Motoring