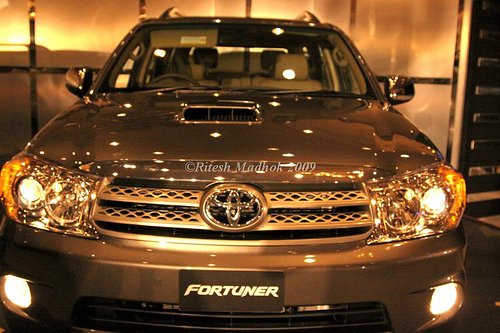 Toyota Kirloskar Motor in a press release issued yesterday stated that it will reopen Fortuner bookings from July 1. The company had not been accepting any bookings from January after several thousand customers had put in their reservations.
Mr. Sandeep Singh, Deputy Managing Director-Marketing -
We would like to thank our customers for the extremely encouraging response till date. The resounding success of the Fortuner in India also meant a backlog of customer orders and high waiting periods. We have now increased the production of the vehicle to more than 950 units to clear the present backlog of less than 4000 customer orders by this September. We are happy to reopen the bookings from the 1st of July for a limited period, and will start deliveries of the vehicle from October until December 2010.
Launched back in August 2009, the Fortuner has surpassed all expectations. 8,500 vehicles have been delivered to customers and production, which was at 500 units per month, has been boosted to 950 following the response.
Press Release
Toyota Reopens Fortuner Bookings

New Delhi, June 30, 2010: Toyota Kirloskar Motor today announced that bookings for the Fortuner will reopen from July 1, 2010 across India. The company had put a hold on the bookings from January 31, 2010 because of a backlog of orders booked in.

The Toyota Fortuner was launched in August 2009, and since then has sold more than 8500 units with a commanding market share of more than 60% in the mid SUV segment. To meet the high demand, the company has increased the production of the Fortuner to more than 950 units per month from the initial 500 units per month.

Commenting on the reopening of the bookings, Mr. Sandeep Singh, Deputy Managing Director-Marketing said, "We would like to thank our customers for the extremely encouraging response till date. The resounding success of the Fortuner in India also meant a backlog of customer orders and high waiting periods. We have now increased the production of the vehicle to more than 950 units to clear the present backlog of less than 4000 customer orders by this September. We are happy to reopen the bookings from the 1st of July for a limited period, and will start deliveries of the vehicle from October until December 2010."