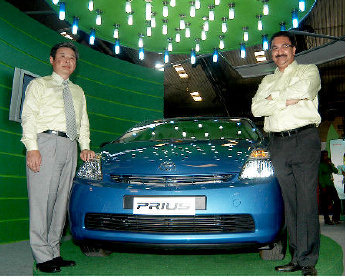 Japanese car manufacturer Toyota is showcasing the Prius hybrid car at the 18th International Engineering and Technology Fair (IETF) held at Bangalore.
Speaking to the media, the senior representative from Toyota confirmed the launch date of their all-new small car, which will roll out in both petrol and diesel variants, during the course of next year.
Kindly note that the small car Toyota will introduce next year is not related to the Prius in any way.
Managing Director Hiroshi Nakagawa -
The small car will be entirely new, designed specifically for the Indian market. Work on our second plant in Bangalore is on schedule and some of the additional capacity will be for the small car
A million units of the Toyota Prius has been sold since its introduction in 1997. However Mr. Nakagawa said the Prius will cost more if imported into India, and only after the government looks into the price of hybrid cars, will they be able to launch it in India.
Note to the IAB Reader- Do you live in Bangalore? Are you planning to visit the Fair? If you are, then why not click some pictures of the Prius and email it to us? We will publish it giving you full credit.