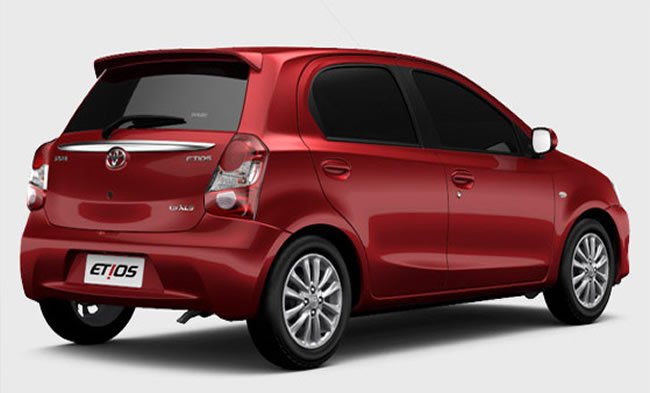 The Toyota Etios is proving more than just an India specific model. When the Etios was conceived by Toyota, a select team of Japanese engineers traveled the length and breadth of India to find out what people like and dislike in a family car.
Soon after the launch, the Etios was sent to South Africa where it entered the top 10 bestselling car list in the second month of its launch.
Now, the Etios has another task to accomplish. Toyota will launch the Etios twins in Brazil by early September. The Japanese automaker has started talking pre-orders for the Etios and the estimated price tag is expected to be 35,000 Brazilian real (around 9 lakhs INR) for the hatchback and 48,000 Brazilian real (around 13 lakhs INR) for the sedan.
The Etios was launched in India at an introductory price of 4.96 lakhs (sedan) and just under 4 lakhs for the Liva.
Coming back to Brazil, the hatchback will be powered by a 1.3 16V engine and the sedan will be powered by 1.5 16V engine. Both engines will be mated to a 5 speed manual gearbox. Both engines are specifically tuned to run on a blend of petrol and ethanol. It will be loaded with air-conditioning, power steering, power windows and radio/CD Player/MP3/USB.
Unlike South Africa which gets the Etios twins from the Bangalore factory, Toyota plans to manufacture the Etios at its factory in Sao Paulo. Toyota is looking to shift 70,000 units annually in and around Brazil. The Etios twins would rival VW Gol & Voyage, Renault Sandero & Logan and the Fiat Palio & Siena.
The next market on the list of the Etios is speculated to be China, due sometime in 2013.
[Source: Autossegredos.com.br]