We are coming to you live from the Toyota Camry Hybrid media drive that is taking place in Karnataka now. This is what we have come to known so far.
The Camry hybrid follows the footsteps of the Camry petrol which was launched a year ago, and since then has captured 20% of the E-Segment petrol saloon market share. The three reasons Toyota see for introducing the hybrid variant are aligning with Toyota's global hybrid vehicle policy, government's focus on energy security and environment conservation and to support the Camry's image with a high line variant.
Internationally, cumulative sales of hybrid vehicles passed the 5 million unit mark this March.
Arriving at the car's engineering, the Camry Hybrid gets a 44bhp electric motor paired to a 2.5-liter 158bhp petrol engine, driven via an electronically controlled CVT. Combined, the power output stands at about 205PS (203bhp). Toyota claims an ARAI certified fuel economy of 19.16km/l and CO2 emission of 122.8g/km.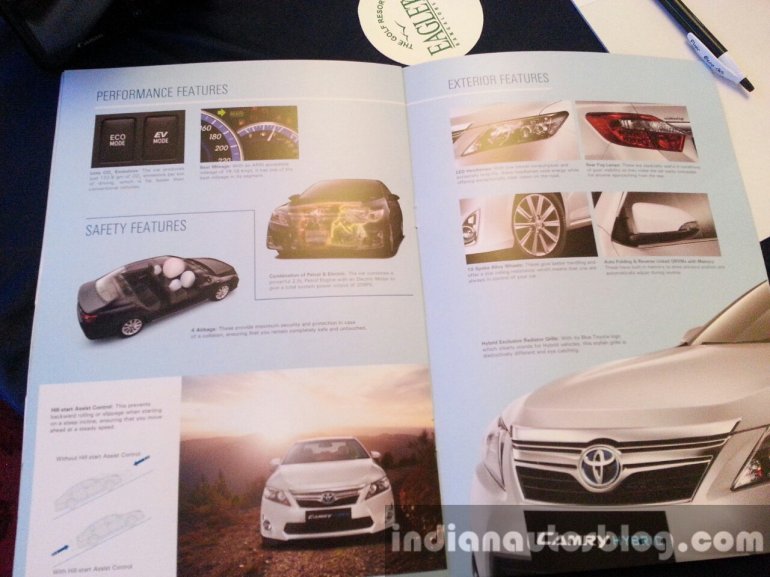 Exterior wise, the hybrid Camry gets an 'exclusive' radiator grille with a blue-colored Toyota logo. The headlights, which look a bit different, are low-power consuming units which Toyota say offer a long life and good visibility.
On the features front, the Camry Hybrid gets a few more goodies than the regular petrol version. You get hill start assist, 3-zone automatic airconditioning (the driver, front passenger and the rear seats), power reclining rear seat, a rear seat armrest with controls for the rear seat recline, rear windshield sunshade and the rear AC. First in class features are the reclining rear seats and ventilated front seats.
The instrument cluster gets a "hybrid exclusive ornamentation" while the front windshield has an acoustic wind silencer that absorbs the high-frequency wind noise from entering the cabin.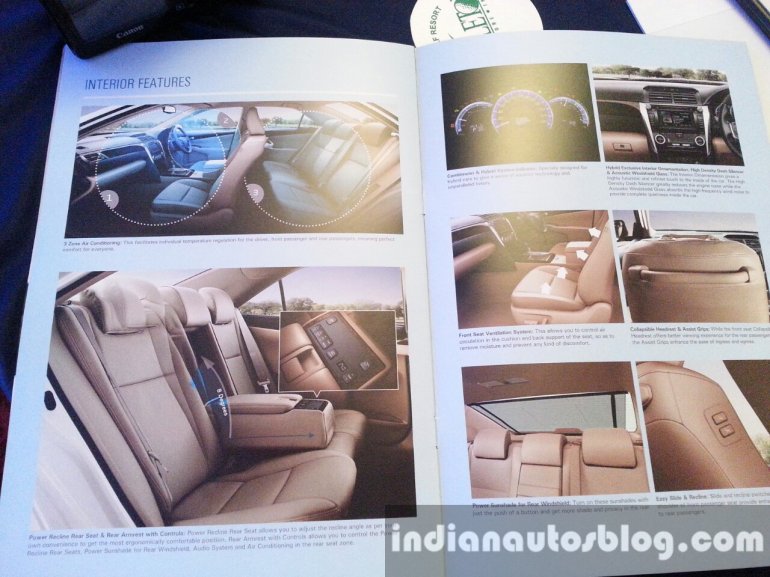 Toyota say that the four pillars of the Camry hybrid are the high fuel economy, low emissions, power and cabin quietness. At the test track, Indian Autos Blog was able to squeeze out 23.9kpl with a very light foot, operating the car mostly on electric mode. Well planned driving returned one driver over 26kpl. However in these circumstances, driving was under ideal conditions.
The Camry Hybrid will not be a CBU, instead it will be assembled locally. As the company already does the same with the ordinary Camry, only certain components such as the hybrid module need to be imported. This makes the Camry Hybrid India's first locally produced hybrid  car.
With 35 enhancements over the petrol car, a 50% leap in mileage, 13% improvement in power and a 32% drop in emissions, Toyota will launch the Camry Hybrid towards the end of the month. It will launch in the three existing body colors, apart from a new gray metallic color.
Stay tuned to IndianAutosBlog.com for the review of the Camry Hybrid.
Toyota Camry Hybrid Image Gallery