If you ask me what is new on the Indica Vista refresh, I can't point out too many things. The idea is very simple however - the facelift provides Tata Motors a chance to iron out small niggles, add few features and remind customers that their entry is a worthy alternative to the Swift or the Etios Liva.
What's changed at the front?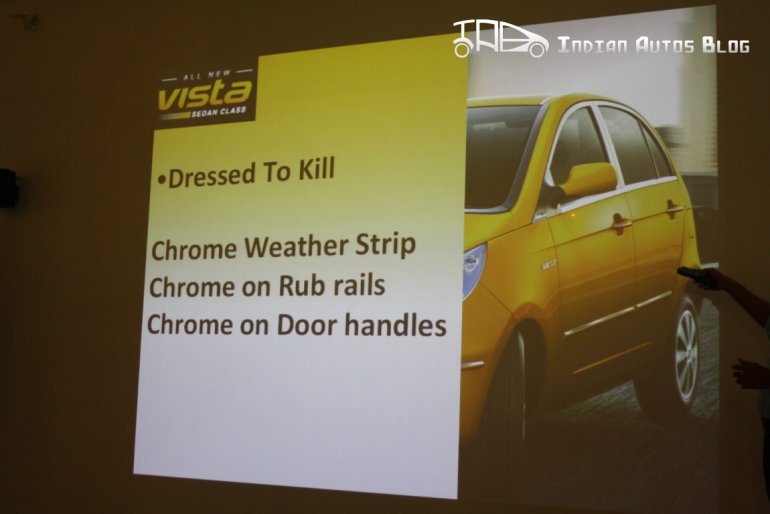 The front end has been transformed by the transplant of the Manza's face. The triple barrel headlamp is new and in comes what Tata calls as "Chrome Pack" that adorns richness and premiumness to the Vista. For a car under 6 lakh rupees, the Vista has the highest chromed components.
I'm an Indian, I love chrome. Where all can I find it?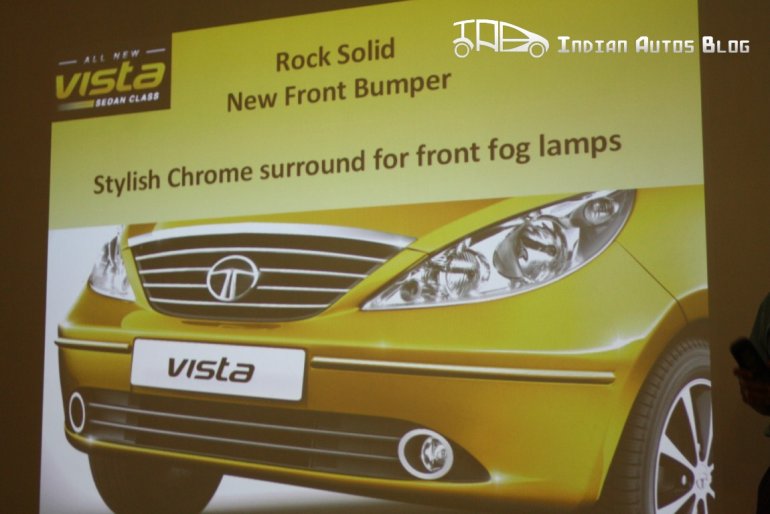 The grille, wraparound chrome on the bumper, fog lamps, rub rails, door handles and on the daylight opening.
Where else on the body is there change?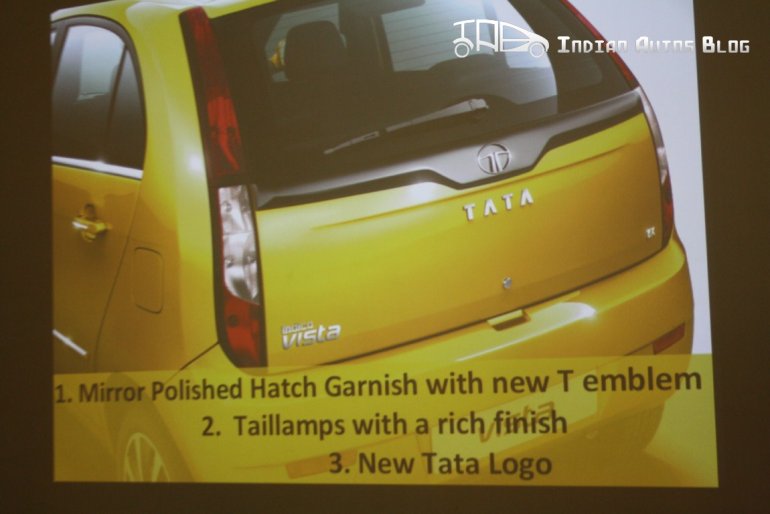 At the rear Tata talked about a change in font size and style of the Indica Vista badge. The nomenclature is different - LX, LS, VX and ZX are the new diesel variants with a suffix G for the the corresponding petrol variants. The logo is new as well.
Is there any change to its interiors?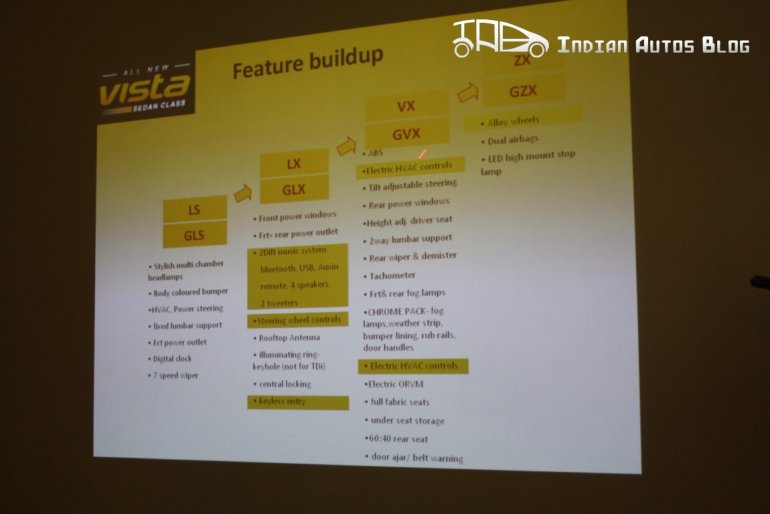 There are minor changes to the Vista's interiors. Steering-mounted audio controls are available on higher variants. The dashboard texture is slightly different, the interior door release operates softer while the effort needed to open and close the door is less. These are not significant changes, but they are nonetheless improvements, more of which we'd like to see.
Does the Indica Vista provide something much of the competition doesn't?
Are you asking about the cabin? Tata Motors says that the color combination used in the interiors protect it from getting soiled. Another protective feature is the clutch-to-start where the engine cranks only when the clutch is pressed.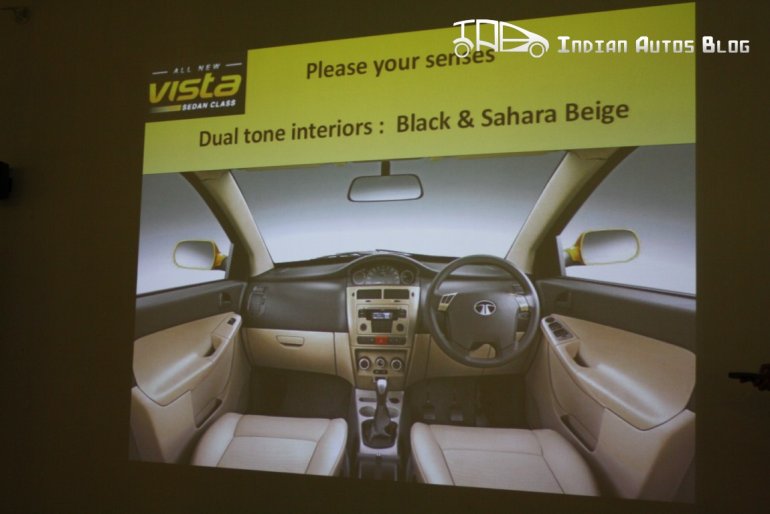 There is a tray under the passenger seat which can hold up to three liters of water. There is a power socket behind the rear seat that provides on-the-go laptop charging. The intelligent rear wiper is useful- if the front wipers are on and you shift into reverse, the rear wiper switches on automatically. These are some interesting features we can point out.
Are there new colors like on every facelift?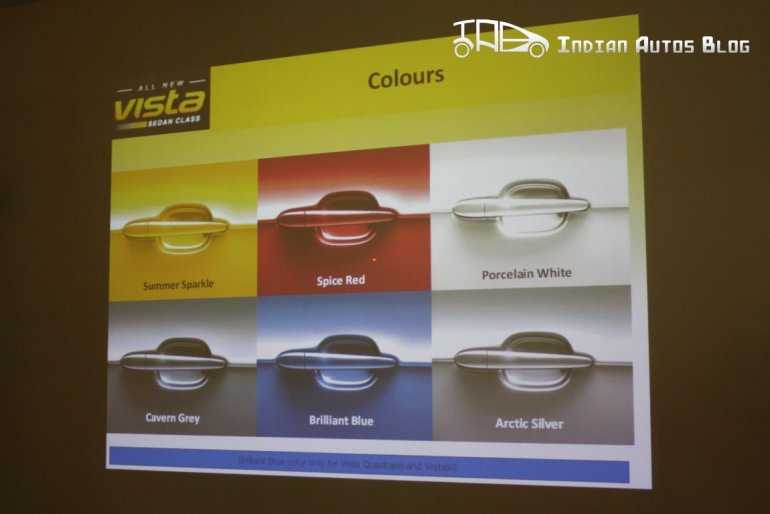 Yellow (the color derived from the Vista Sport concept from Auto Expo 2010), Red and Blue have been added while White, Silver and Gray live on.
Does Tata provide Airbags and ABS on higher variants?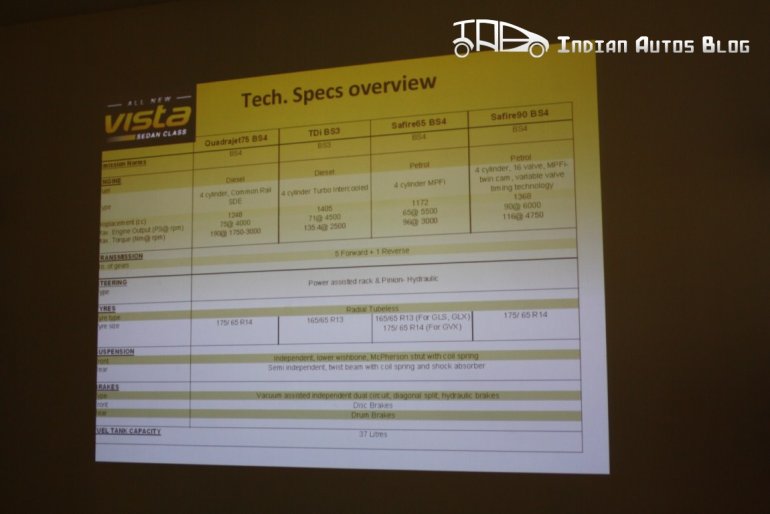 The top-end model gets dual front airbags along with ABS while the penultimate variant gets ABS.
What are the mileage figures on the Vista facelift?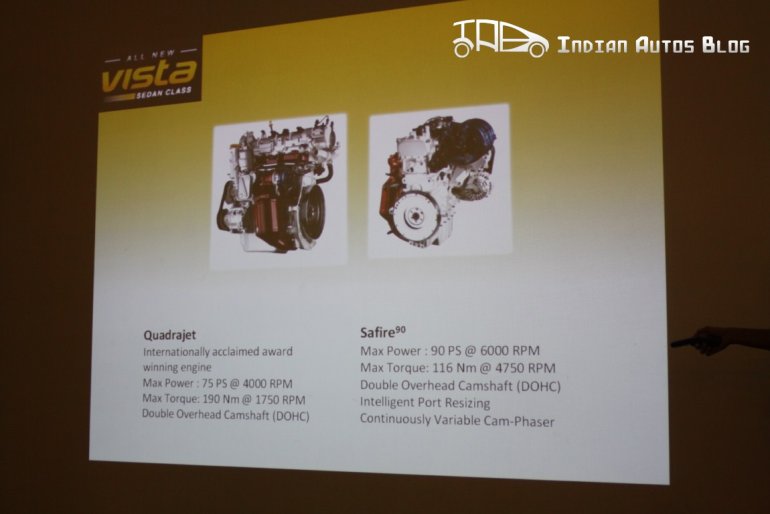 22.3 kmpl for the Quadrajet (diesel), 16.7 kmpl for the SAFIRE 65 (1.2-liter) and 13.7 for the SAFIRE 90 (1.4-liter).
Where is the review?
We'll bring you a review of the vehicle shortly. Stay tuned to IndianAutosBlog.com
Tata Indica Vista refresh Presentation Image Gallery