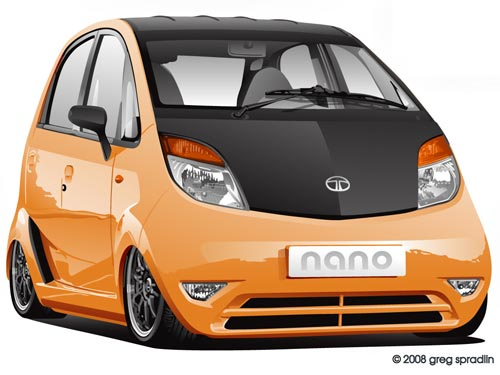 Tata Motors is in the process of analyzing a port at Simar to export its global car Nano to abroad markets. Tata had lately roped in Shapoorji Pallonji & Co, for establishing the factory foundation and the roads in the 2,200-acre Nano complex. At the present time it is clear that the rate of construction is speeding up in its port project at Simar in Junagadh in Guajarat. Afcons, a marine infrastructure wing of Shapoorji Pallonji, is set to ink a MoU with Gujarat Maritime Board (GMB), in the course of the Gujarat meet in January 2009, to build a greenfield port at Simar.
Afcons was given a letter of intent to develop a port at Simar, one of 9 greenfield sites in Gujarat. Shapoorji Pallonji plan to invest Rs. 800 crore to develop and handle bulk cargo at the all-weather direct berthing port. First phase of the project will be complete by 2012, following which additional capacities will be built by 2020.
Gujarat to develop 'Auto Industrial Hub'
Reports suggest that Gujarat Industrial Development Corporation (GIDC) is exploring the feasibility to develop an 'auto industrial hub' on a 500 acre-land, just close to the Tata Nano Project at Charrodi in Sanand taluka. As Tata Motors have already began commissioning its greenfield unit for Nano in Gujarat, several carmakers are believed to have evinced interest in setting up a facility in that state as well as invest in its ports for establishing automobile-handling terminals. Gujarat state government have taken around 2,200 acres of land at Charrodi from the Anand Agriculture University (AAU), and has also inked an MoU for 1,100 acres of land with Tata Motors for setting up of the Nano plant here.
Gujarat is all set to become an important auto export hub in the country, with Mundra Port already setting up a dedicated car terminal for Maruti Suzuki.
Source: WheelsUnplugged